Top 10 Reasons To Text With Customers
Adding text messaging to your business communication can greatly impact sales, service and the customer experience. View our top 10 reasons and stats to start texting with your customers.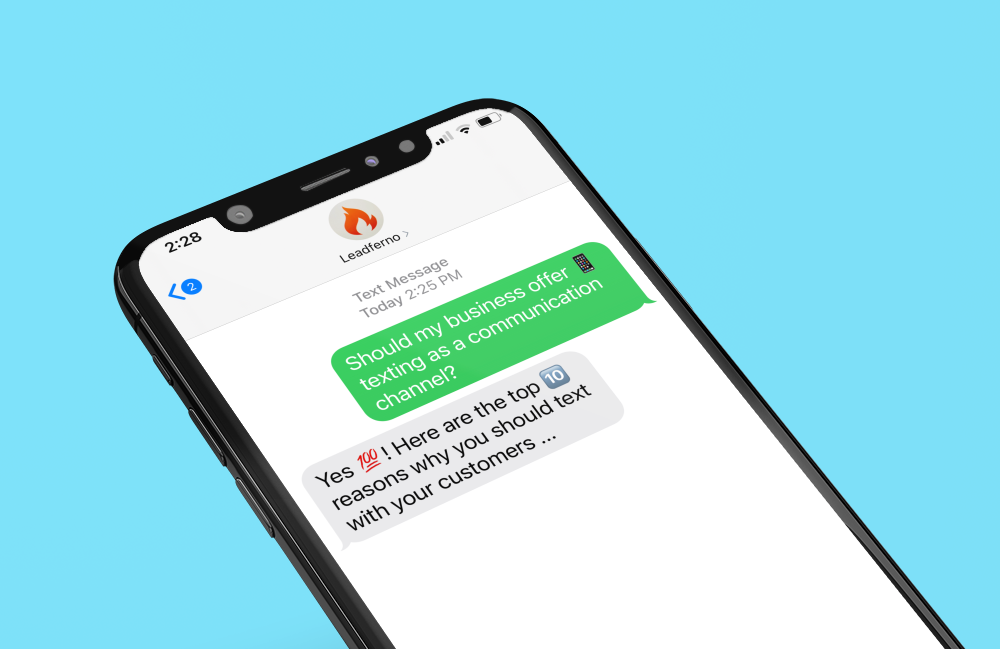 Texting for business has been around for some time now, but it still hasn't reached anywhere near mass adoption, especially on the side of the business. Consumers are very open to it and often wanting SMS as a communication channel with the businesses and brands they want to buy from, but most businesses aren't there yet.
The most common texting use case for a business to date has been SMS marketing blasts, a company sending out their special, deal or offer to a list in hopes of driving a purchase. This is texting "AT" your prospects or customers. We see the growing demand that customers are wanting to text "WITH" your business.
It's time for businesses to offer 2-way texting to better serve customers. If you are on the fence or investigating texting with customers we put together our top 10 reasons and stats to help you take the next step to start texting.
10 Reasons With Statistics To Start Texting
1- Texting is the number one cell phone activity. Texting with your customers allows them to communicate with you in their most used app on their phone, making it the easiest way to communicate with you.
2- Customers want to text with your business. 78% of consumers wish they could have a text conversation with a business.
3- Text messages get read. 90% of people open a text within just 3 minutes. That's a clear line of communication you want with your prospect or customer.
4- Customers can communicate faster with you as the average response time to a text is 90 seconds compared to 90 minutes for an email. This 60X higher response time can be a game changer for your business.
5- 65% of consumers feel more positive toward a business that offers messaging for communication. They shared that it makes them more likely to choose that company (market that you offer texting!), increases the chance they'll recommend the business and shows that the company respects their time. Those are powerful and valuable feelings messaging can evoke.

6- Texting with prospects in your sales process can increase conversions over 100%. Even if the lead doesn't come in via text, it can be used to support your process, stand out and win the prospect.
7- Response rates from text messages are 209% higher than those from phone calls. If you want a great chance of hearing back from your customer, send a text message over leaving a voicemail.
8- Texting with customers improves the customer experience. Quick answers, reminders, scheduling and more are why 85% of consumers prefer a text over a phone call or email. Both sides benefit from a complete record of the conversation, information and timing.
Do you want to delight customers and get better reviews? Let us show you how Leadferno can improve your communication to a 5-star experience.
9- 80% of professionals currently use text for business purposes. Using a solution like Leadferno allows you to deploy a more secure, scalable and manageable text solution for your team.
10- Text messaging is easier to manage and delight customers than live chat. Our own research showed that 50% of consumers expect a same day reply with text, where 57% expect a live chat reply in minutes to be satisfied. That offers a small window to delight your prospect or customer with live chat, but many hours with texting.
Start Texting With Customers Now To Gain An Advantage
Despite the reasons and statistics above, over 65% of businesses still don't offer texting as a communication channel. This offers you a huger opportunity to not only improve your sales and customer service, but to make your brand stand out with 2-way text messaging.
The stats in this article are from three different sources: The Local Project, Pew Research Center and Soprano Design.
Similar posts you may be interested in: