Easily Request Reviews By Text
Getting reviews helps your businesses improve both your marketing and customer experience. Requesting reviews by text is easy, fast and delivers results.
May 2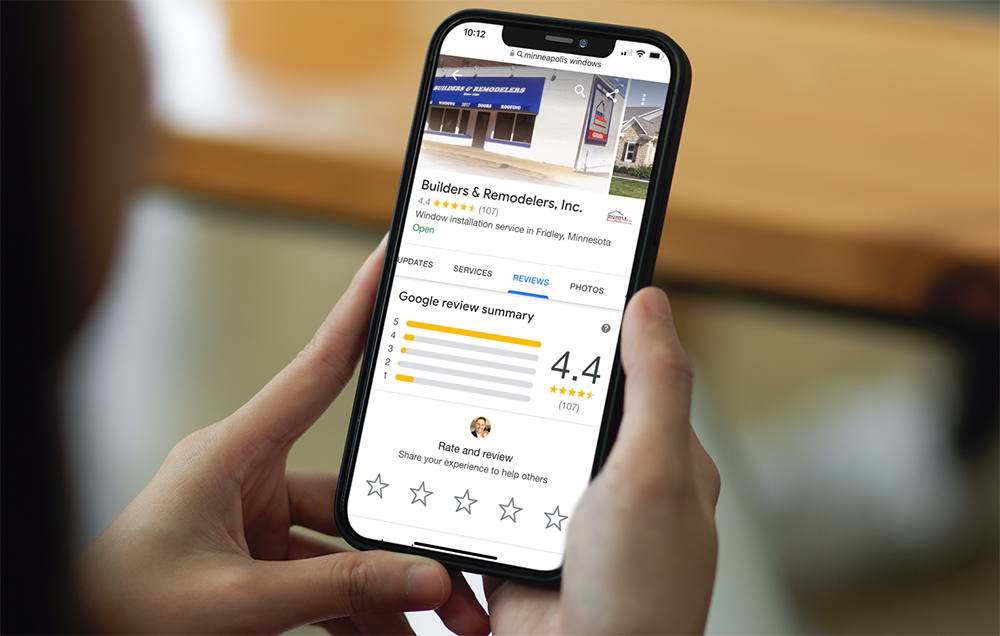 Online reviews and reputation are incredibly important to small businesses. They build trust with prospects, improve Google search rankings, influence decisions, and help the business to listen to their customers.
BrightLocal's annual survey found that 98% of people at least 'occasionally' read online reviews for local businesses in 2022. The bottom line is businesses need reviews.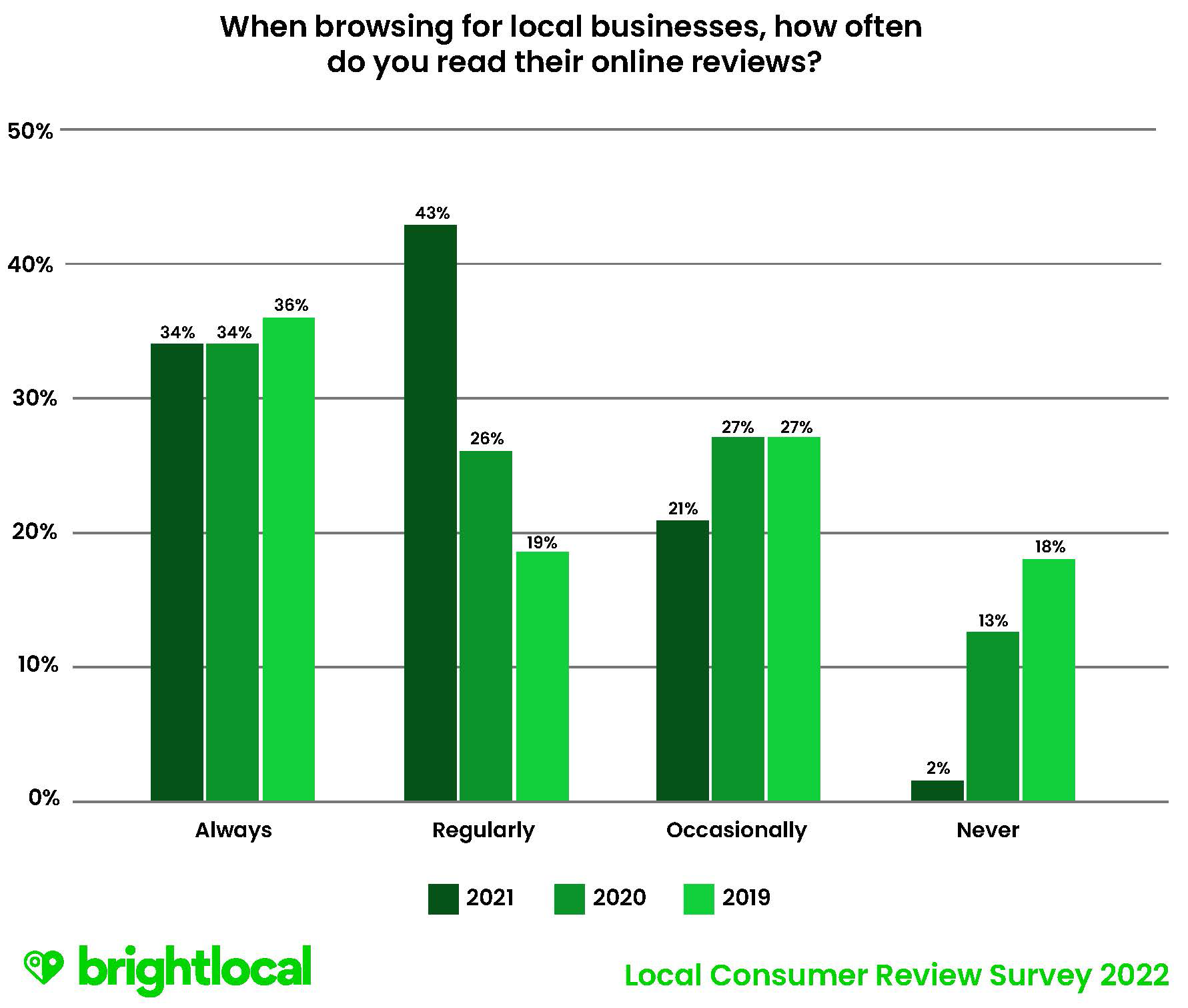 While a great review starts with providing an outstanding customer experience, getting customers to leave reviews works much better when the business makes leaving a review easy. Following up with your customers and asking for reviews with a text message is both easy and efficient for the business and the consumer.
Asking For Google Reviews
For most businesses, acquiring Google reviews is at the top of their list. With Google reviews influencing search engine rankings and map results, they can't be ignored. Luckily, Google has made it a bit easier with a few simple tools in your Google Business Profile to request reviews from their customers.
Sending your Google review link to your customers is easy. Google even offers the ability to send it by email, Whatsapp or Facebook. Your best results can come from texting this review link to your customer.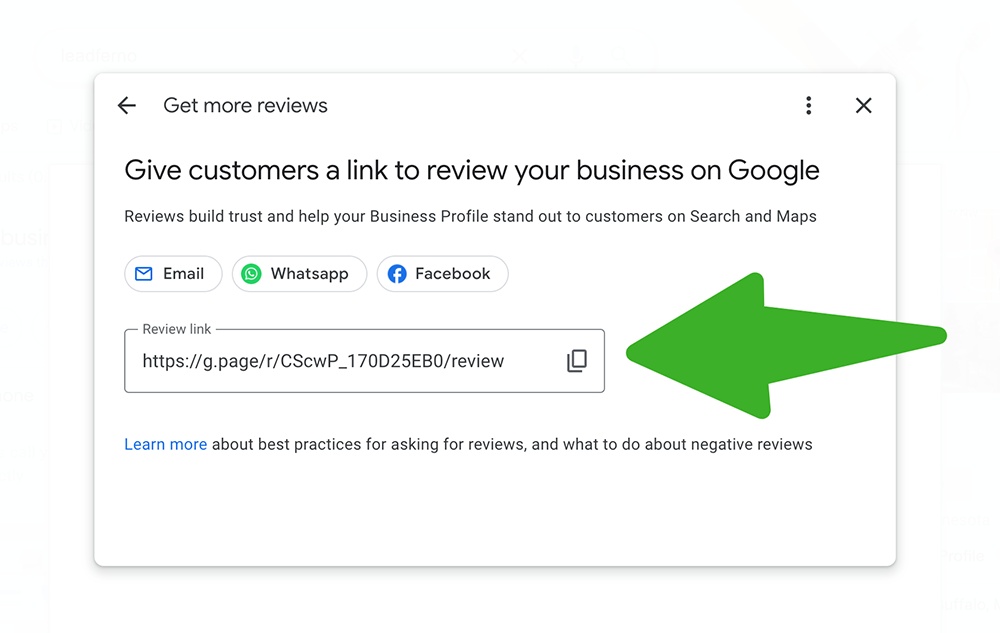 In the example below you can see Moller Design following-up with their customer after their interior design services to request a Google review. This makes leaving a review easy for the customer. Tapping the link brings them to writing a Google review.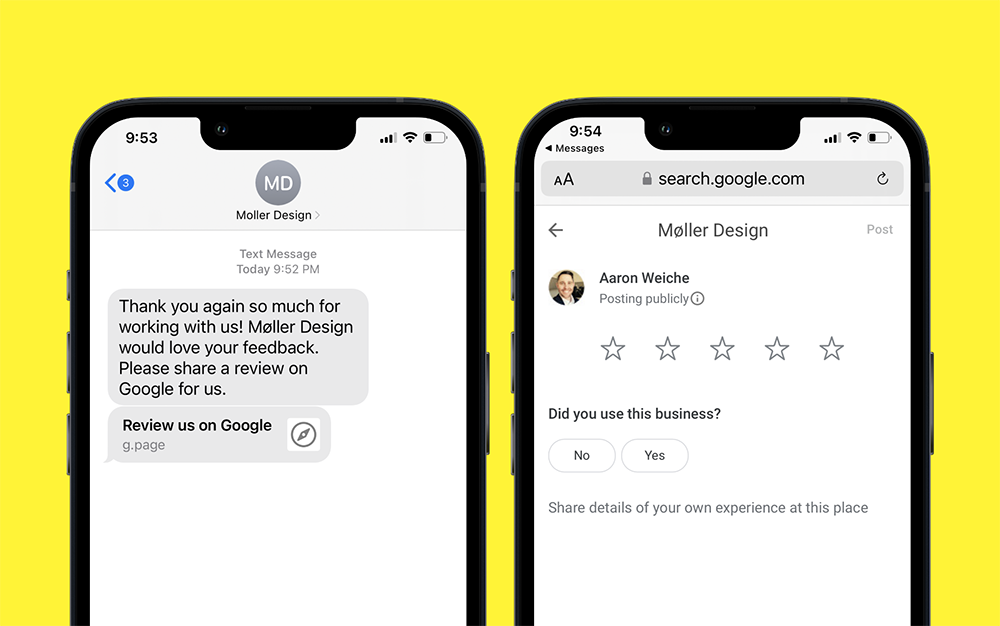 Use Shortcuts For An Instant Review Request
Requesting reviews with Leadferno is as easy as just 2 clicks/taps using our Shortcuts feature. Just create a saved text message that you can access at anytime to send your customer a Google review request by text.
Create your personal (per user) or team (every account user) Shortcut by going to SETTINGS > SHORTCUTS in the main menu.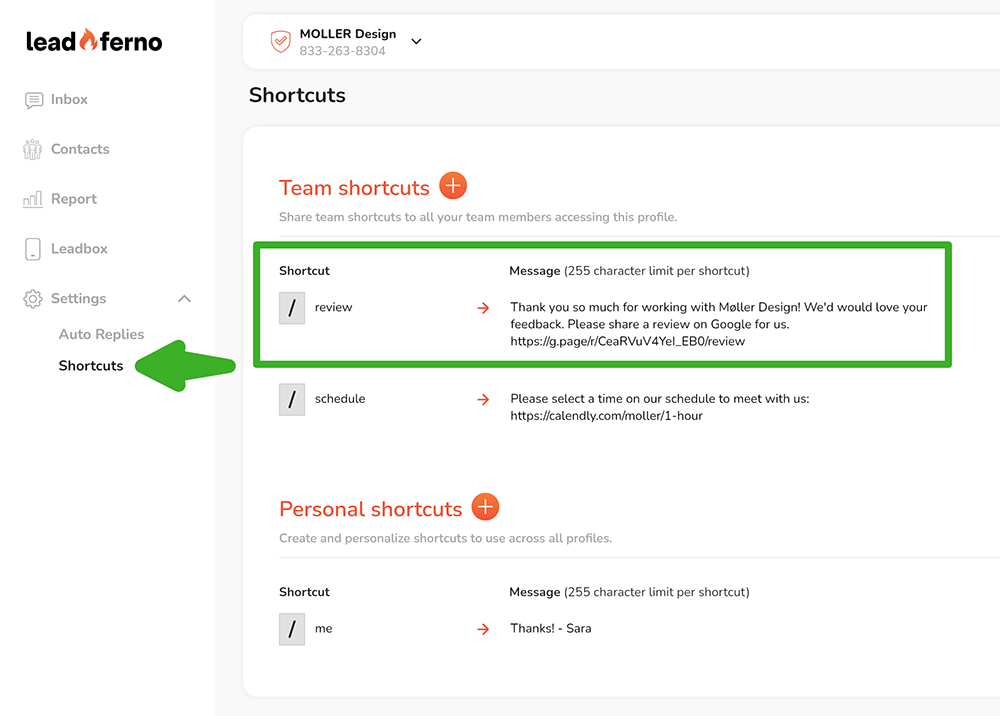 Reviews with photos
You can increase the value of your reviews and improve you Google Business Profile by asking for photos to be included with their review. Read our tips on reviews with photos to make it easier to get more of both and improve your local search rankings.
Using Reputation Management Software?
If you are using a reputation management solution like GatherUp, ReviewTrackers, Reputation Builder, GradeUs or others, you can use Leadferno with it. These tools have landing pages or request links to start their review request process that you can link to in your text request.
It's smart for businesses to seek out direct feedback (1st-party review) as well as online reviews and you can use Leadferno to link to your existing survey, Net Promoter Score (NPS) or review software.
Communicate, Follow Up And Request Reviews All By Text
Texting is a powerful channel to help your prospects become customers and your customers to become referral engines. All along the customer experience, texting can positively impact the customer exerpience and help your business stand out.
Once you have completed your service or product delivery, following up to ensure the customer is happy is made easy through SMS.
Then tie off the experience with requesting a review. As we've outlined, we make it easy and fast for you AND the customer to write a great 5-star review when you use text to ask for reviews.
Similar posts you may be interested in:
Categories: