How To Get More Reviews That Include Photos
Maximize your Google reviews with photos. See why photos matter in your reviews for trust and conversion. Learn how to get more reviews to include photos.
Aug 3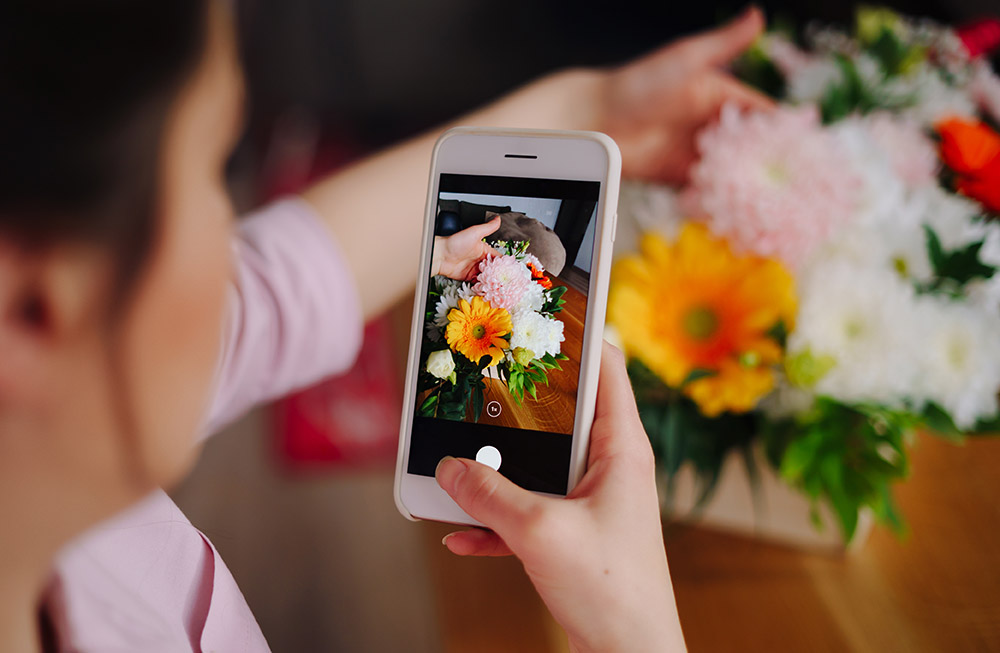 Customer reviews are one of the most powerful online marketing tactics out there for a business. Having your Google Business Profile and other review sites full of strong ratings and reviews from happy customers can do a lot for your search rankings and conversions.
Reviews are like mini-stories of that customer's experience with your business. They contain various elements to tell the story including the rating, content/text, photos, and attributes if available.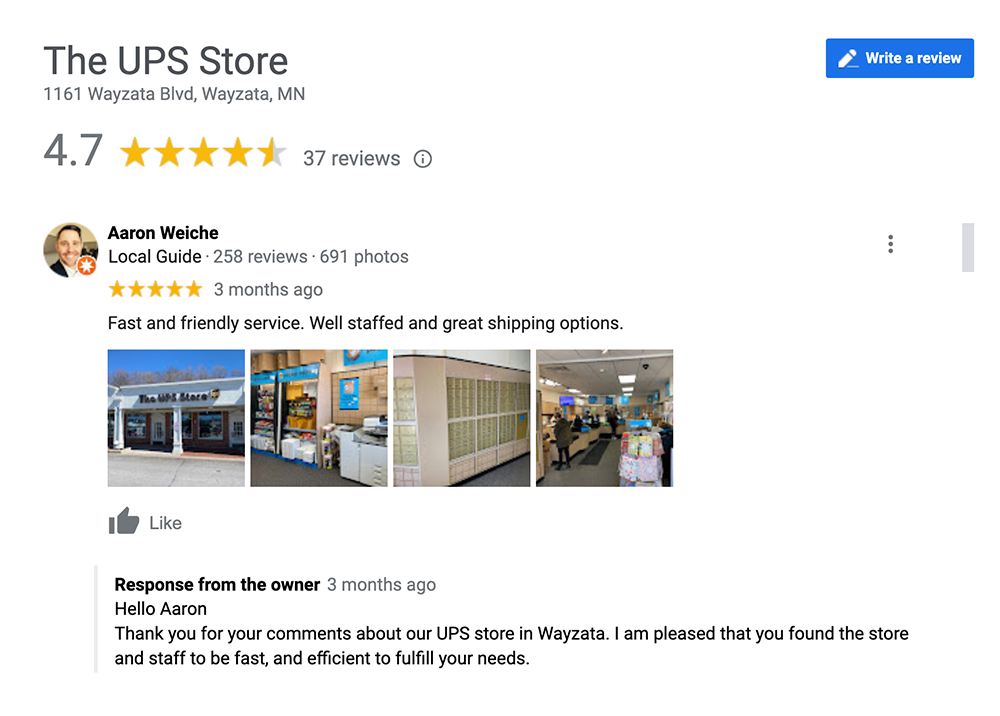 One element that doesn't get as much attention as it should is photos. Photos in reviews increase trust with their ability to show details like quality, color, size, before and after, process, staff and location details.
If you are paying attention to the local search industry lately, images are gaining a lot of buzz as the future of Google search.
Seeing Is Believing – Photos Build Trust
It's pretty straightforward, the more you can see for yourself about a business the higher the trust. This applies to service businesses just as much as a product. Being able to see the businesses trucks, staff, installation process, service process, office, outcome, etc. are all trust signals to a consumer.
BrightLocal's annual consumer review survey showed that photos are an aspect of reviews that consumers care about. 40% of their respondents chose photos as a trusted element of a review that produces a positive view.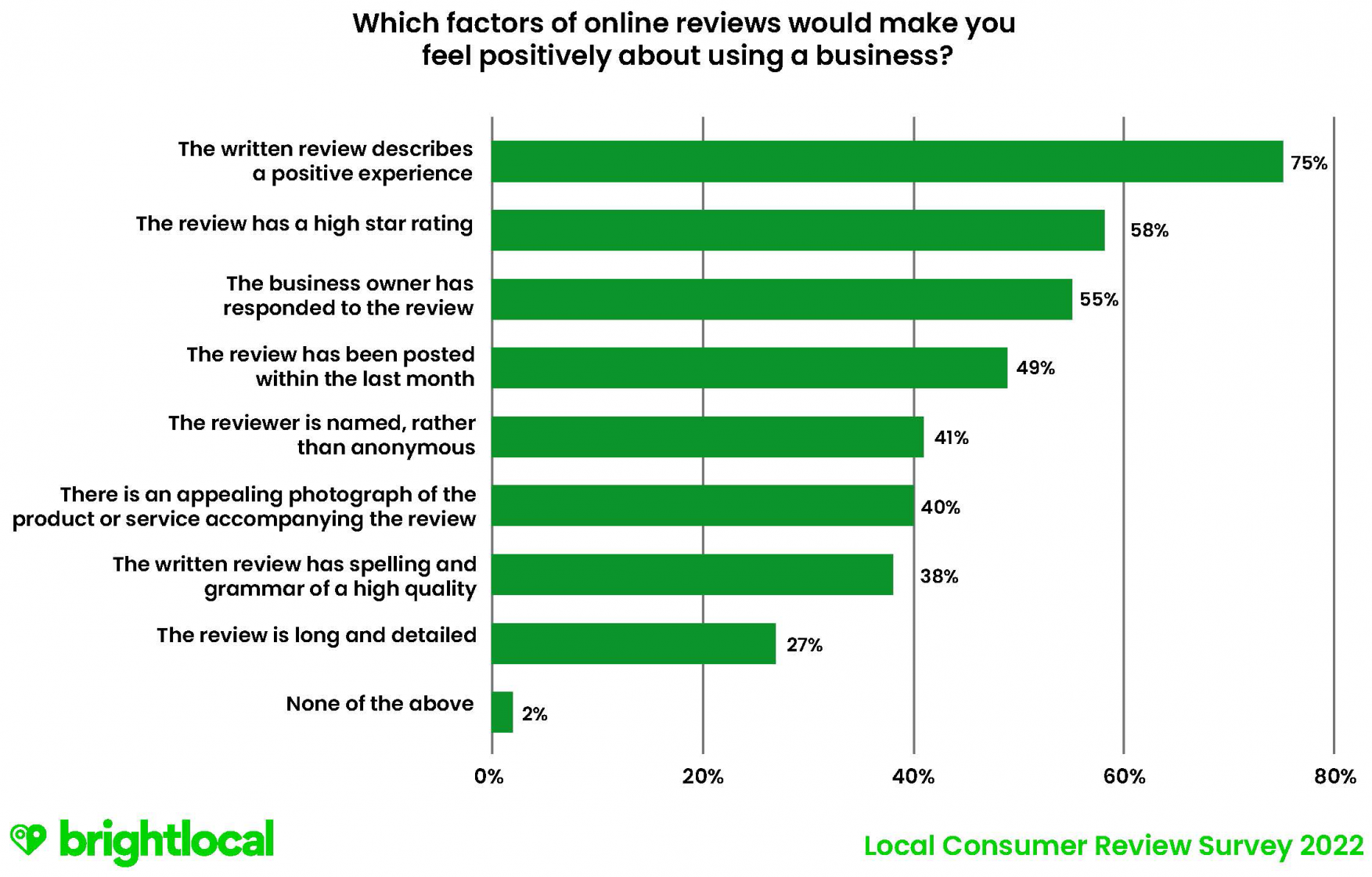 Photos are even higher than the length and detail of a review, proving that photos are worth a thousand words to many.
Reviews With Photos Gain Google Visibility
This isn't a play on words. Yes, photos are visual, but reviews that have photos included get preferred treatment in Google's display of reviews. Not only do photos appear with their submitted review, but they also display separately in the photos section of your Google Business Profile, doubling their value.
Local photo solution provider Aircam has detailed multiple case studies on the impact of adding good local photos to Google Business Profiles. Here are just three industries they outlined.
Legal: 118% increase in leads
Dental: 10% increase in conversion
Auto Insurance: 45% increase of click-thru-rate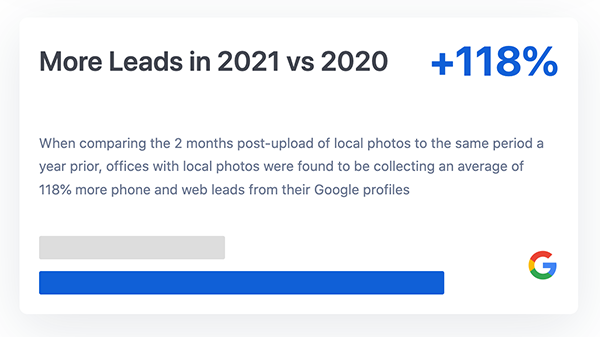 At the recent LocalU Advanced conference, local SEO expert Joy Hawkins of Sterling Sky shared her research on many aspects of Google reviews including photos.
Joy shared "In the cases we looked at, we found that Google reviews that included photos stayed in the most relevant reviews section 1.5-6x longer than reviews without photos.". This means that reviews with photos appear in the top 10-11 review spots much longer. These are the reviews that customers doing research will read first and possibly only those reviews. These reviews matter a lot.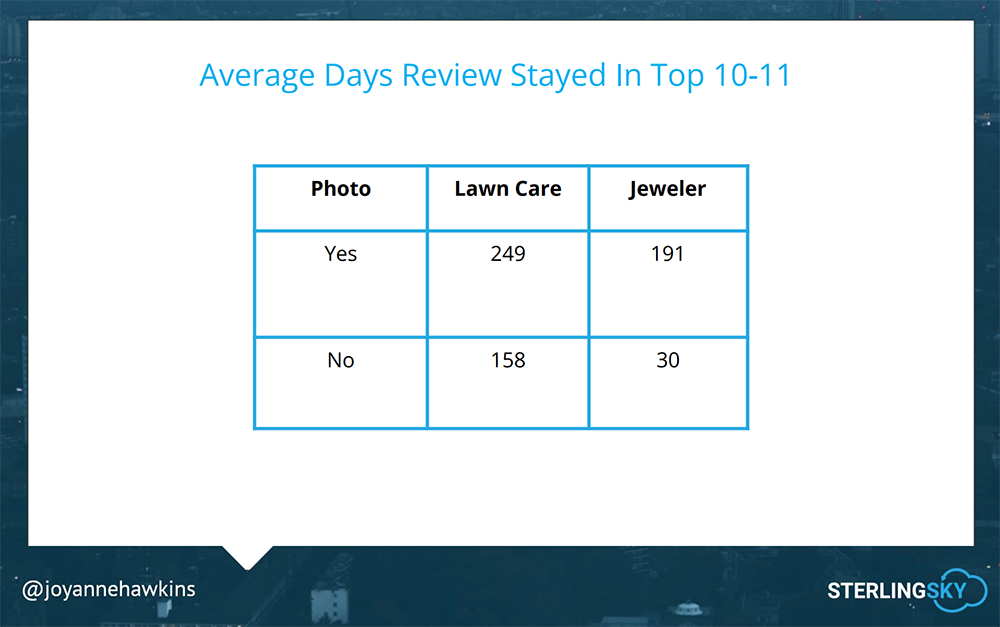 Joy's research shows the staying power of reviews that include photos for two specific industries in home services (service) and retail (product).
BONUS PRO TIP
Joy offered a great pro tip as part of her research on Google reviews. When you get a bad review that shows in your first 10 spots, you can reach out to a past customer that has reviewed you and ask them to update their review with a photo. (Notice I said when, not if … all real businesses eventually get a poor review.)
Her research found that updating a few past reviews and adding a photo to them bumped them into the top 10 in many cases and dropped the negative review. It's not a given, but a tactic worth trying.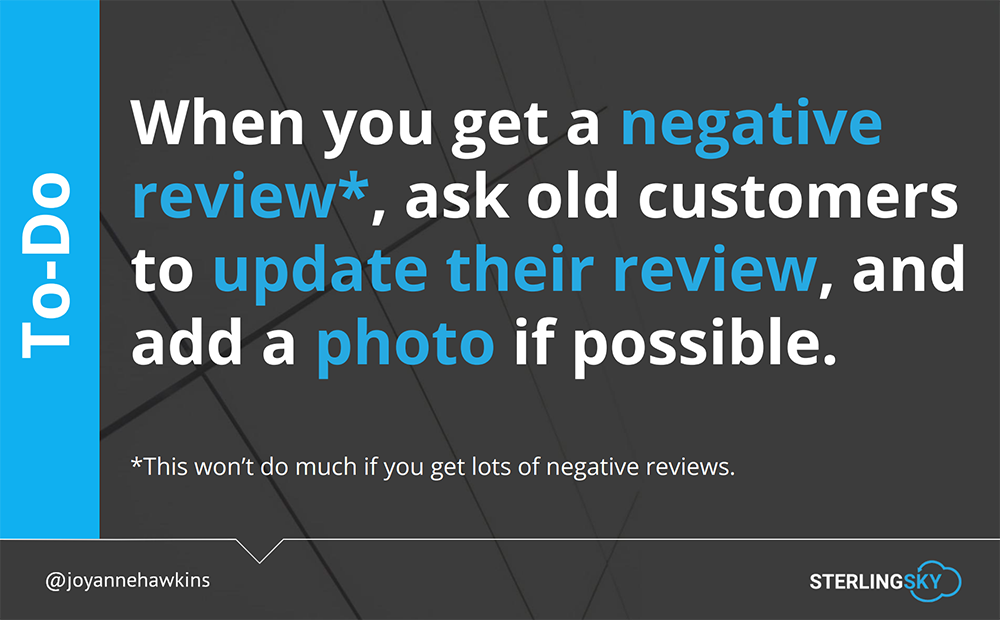 How To Get Photos In More Of Your Reviews
Now that we've established that getting reviews with photos is valuable in multiple ways, what can you do to help make this happen? Good news, we have a couple of suggestions for you.
Text messaging and requesting reviews by text is a great way to generate new reviews. Engaging your customers for reviews on their phone, where they have their camera and photos, is a perfect match for getting more reviews with photos included.
1- Include Asking For Photos In Your Review Request
If you want something, just ask for it! It's that simple. Adding that photos matter and are desired in your review request can be powerful all by itself. Especially for some products and services, this addition to your request will cause more photos to be included in your customers' reviews.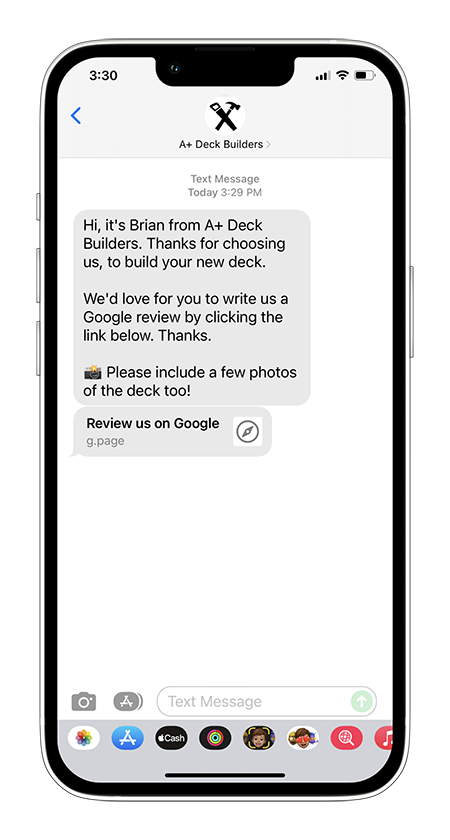 With Leadferno, you can save this review request as a Shortcut that you can send in just seconds with a few taps.
2- Send Your Customer Photos With Your Review Request
You can make including photos in the review even easier by providing your customer with the photos. This is perfect for home services businesses that are on site and can take photos during the install or repair process as well as the final outcome. H/t to Carrie Hill who pointed this out during my presentation at LocalU on Twitter.
Taking the time to take a few great photos to include with your review request makes it even smoother for your customer. The act of sending them photos might even get them to take more pictures on their own or add ones they have already shot.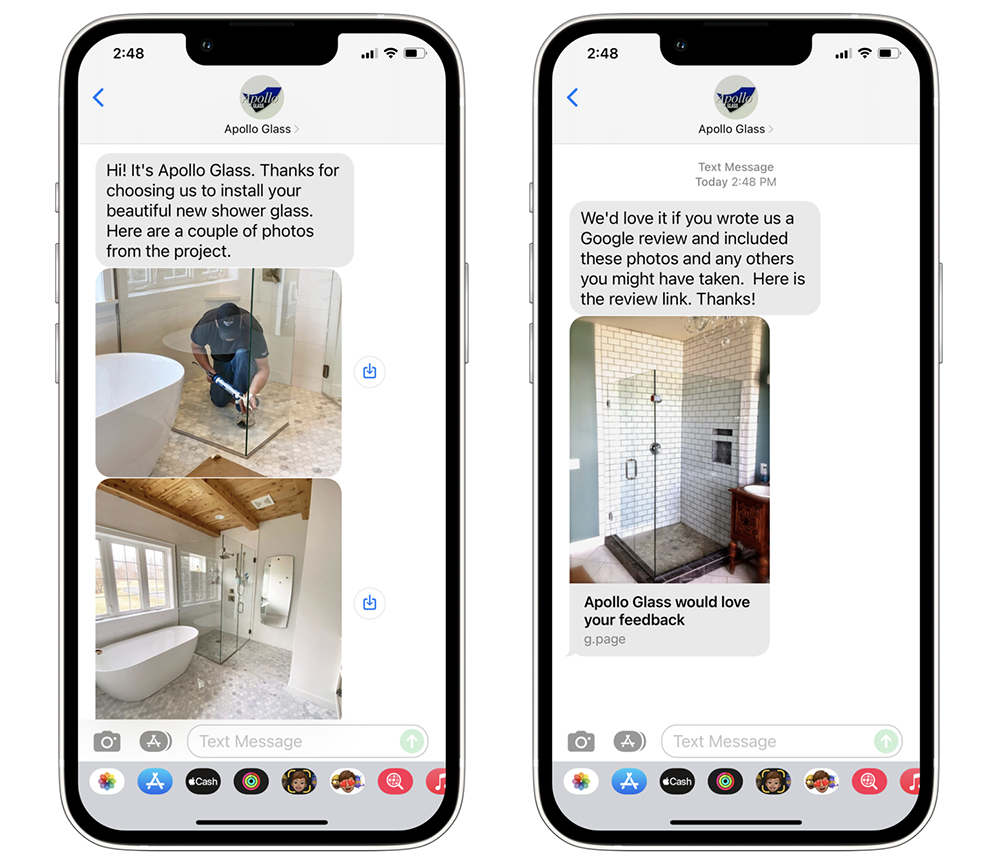 Reviews + Photos For The Win
Using one or both of these methods to encourage photos to be submitted with Google reviews can yield great results. The review and your Google Business Profile increases in detail, trust, and visual engagement for prospects to discover and convert – by chatting with you through Google's Business Messages.
The end result for any type of business can be a great review that offers visual impact and value like the example below. Seeing is believing and believing converts lurkers to leads.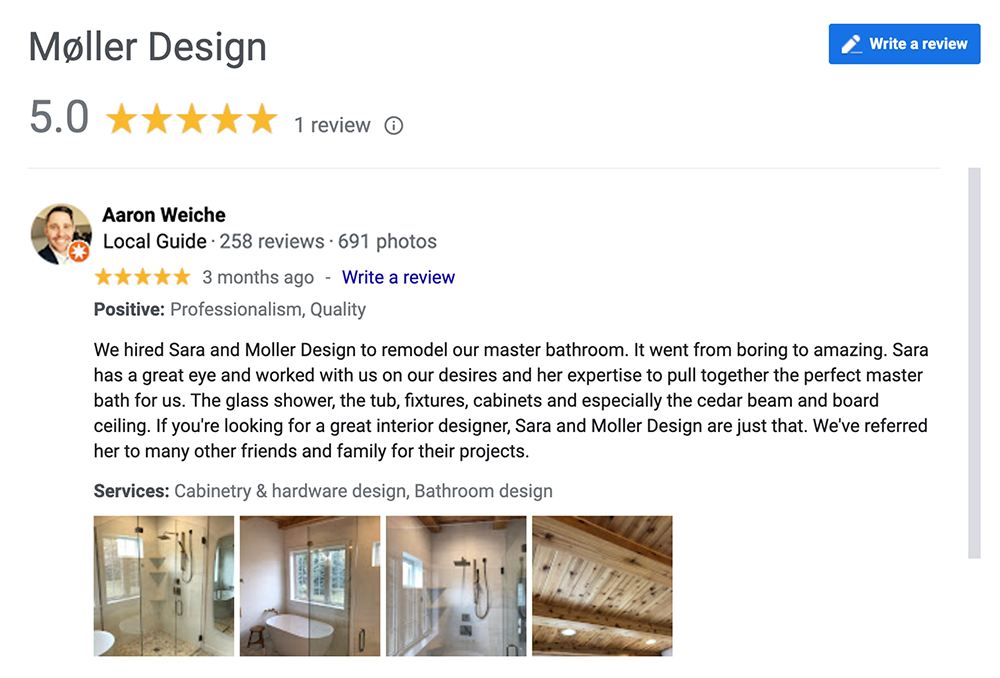 Similar posts you may be interested in:
Categories: