Text Faster With Your Customers Using Shortcuts
Communicate faster with prospects and customers using Shortcuts. A feature built to save you time and keystrokes when messaging.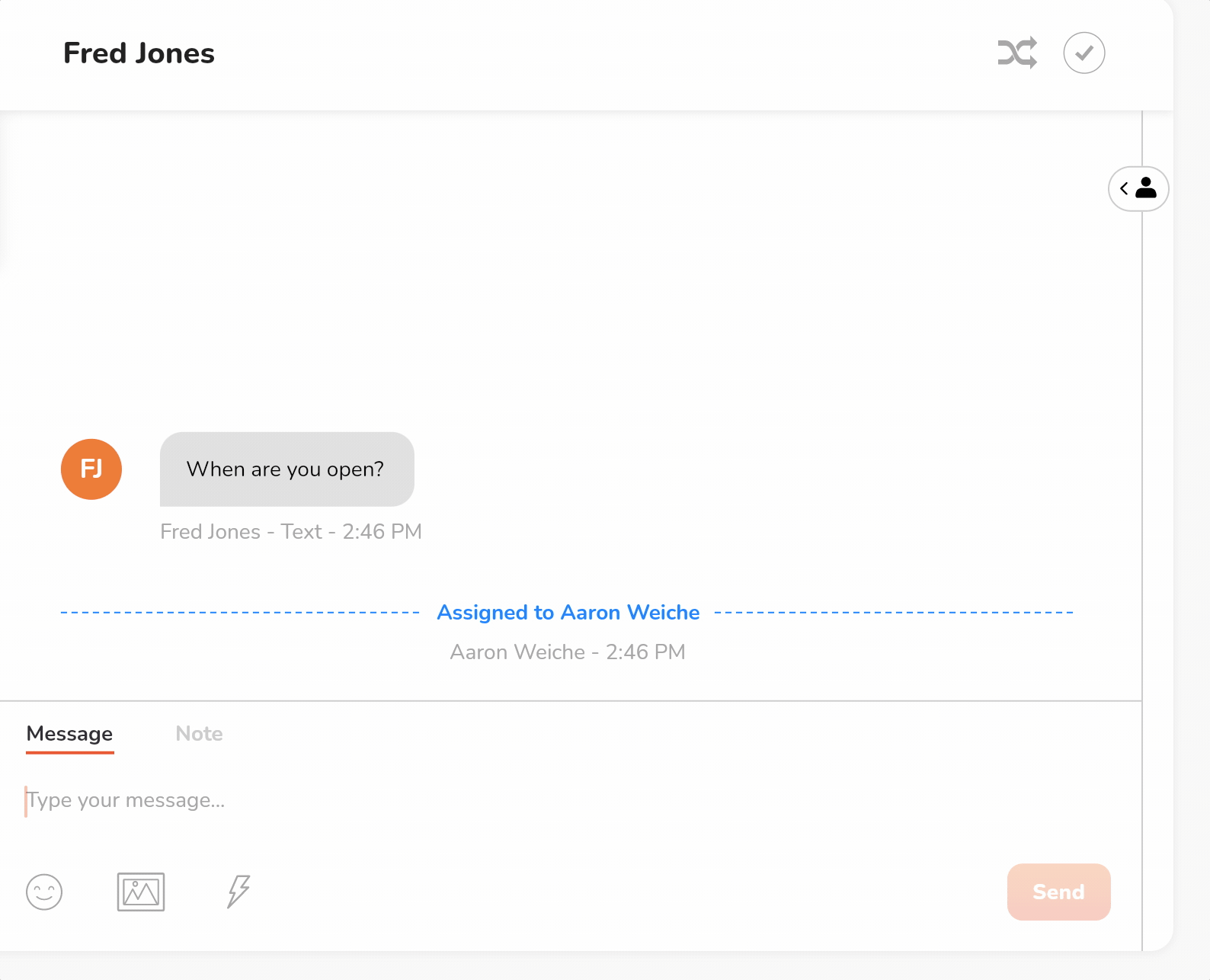 Do you want to text faster with your customers or message them the link to get the answers they need? With Leadferno's Shortcuts you can do just that.
Shortcuts allows you to save common answers, replies, questions and links that you can instantly send in your conversations by typing a keyword or in just a few clicks. Save yourself the time of typing out sentences or having to copy/paste a link.
Messaging is all about speed as our consumer survey showed it's the second highest reason consumers value texting. Speed is also key in to converting prospects to sales with fast response times.
Examples of shortcuts in your messaging
Every business has it's own set of frequent replies, answers and questions in their customer conversations. Let's look at some common interactions you might want to create Shortcuts for.
Your business hours
Customers might frequently ask you for your hours. Having a saved reply that outlines you normal business hours is a great way to quickly respond to "are you open?", "how later are you open tonight?" or "what are your hours?".
Process
If your business has a set process for free estimates, booking an appointment or other process, Shortcuts speeds up the process. Create the perfect reply with the steps or links needed to complete this process.
Lead nurturing questions
If you have specific questions you often need to ask prospects when they engage with you, Shortcuts is a great way to have them ready to message. Many businesses will have a series of questions to help nurture the opportunity to a sale and you can have them all saved and ready to go.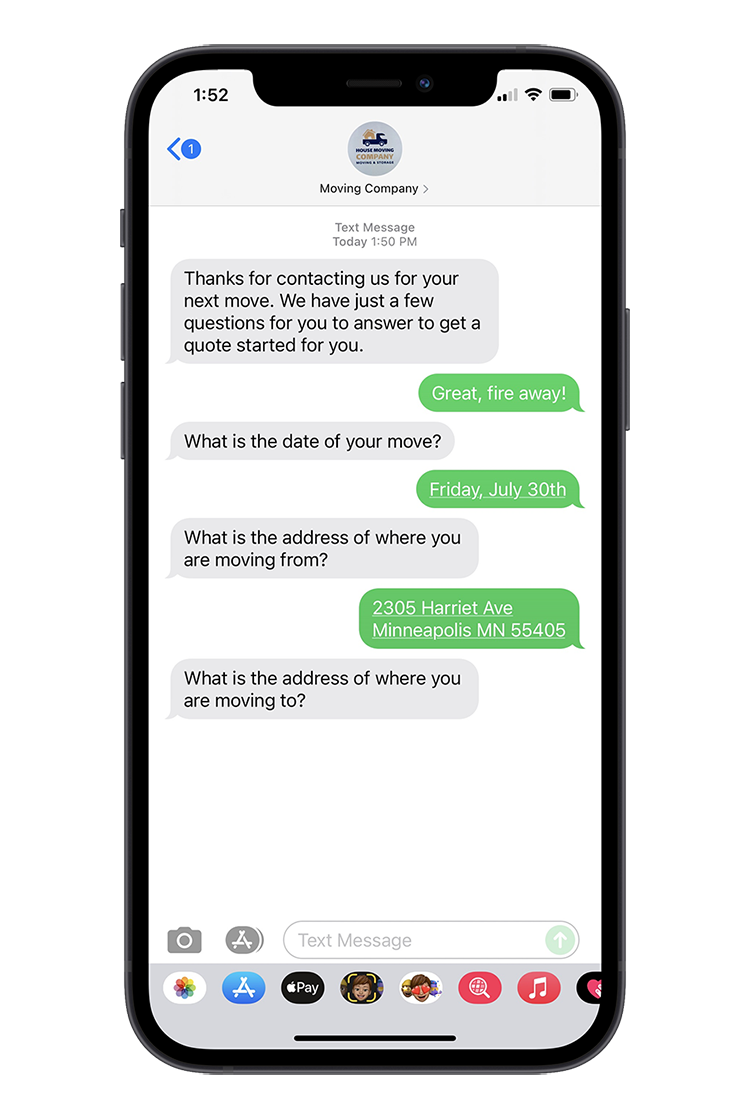 In the above example this moving company has their prospect questions loaded as Shortcuts for date, location, and destination to make the process easy, fast and consistent for their team and the prospect.
Request reviews or customer feedback
Once you've helped that customer you want to be able to gauge how they felt about their experience with your business. Asking for an online review or customer feedback is made easy with Shortcuts. Best of all Leadferno works with all of your favorite reputation management tools like ReviewTrackers, GatherUp, GradeUs, BrightLocal, Whitespark and more. You can also directly use the Google My Business review link in your Shortcut.
Endless options
These are just a few of the ways Shortcuts can be powerful and save you time. You can create any type of shortcut message you want that best fits your communication and customer needs.
Using Shortcuts in your conversations to text faster
Using your saved Shortcuts in your conversations is easy and can be activated two different ways.
The first is by using a command and keyword search when you are composing your message. Type the " / " (forward slash … and yes many people incorrectly call it a backslash) and then the keyword. The keyword can be the keyword you created to title your Shortcut as well as content from the saved Shortcut.
The second option is to use the Shortcut icon in the message composer area, which is a ⚡ lighting bolt. Once the icon is clicked you will see a full scrollable list of your Shortcuts that you can toggle through or even still search by keyword.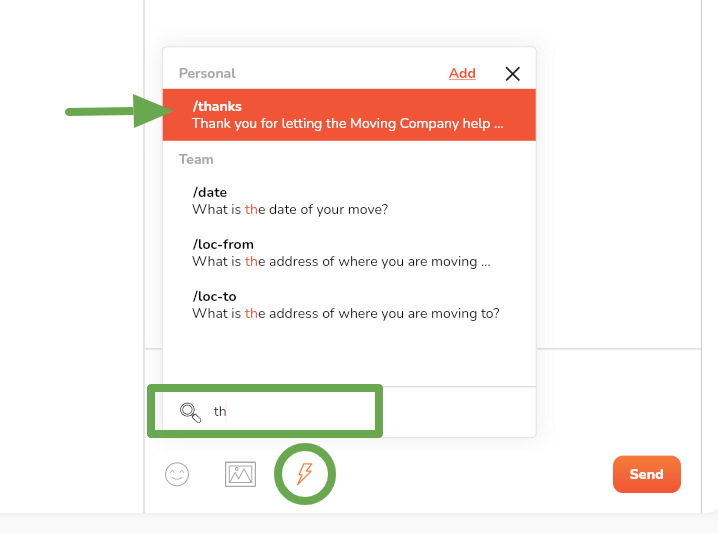 Creating and saving Shortcuts
You can create Shortcuts by going to Settings > Shortcuts in the main menu. Once on the Shortcuts page you will notice there are two types of Shortcuts.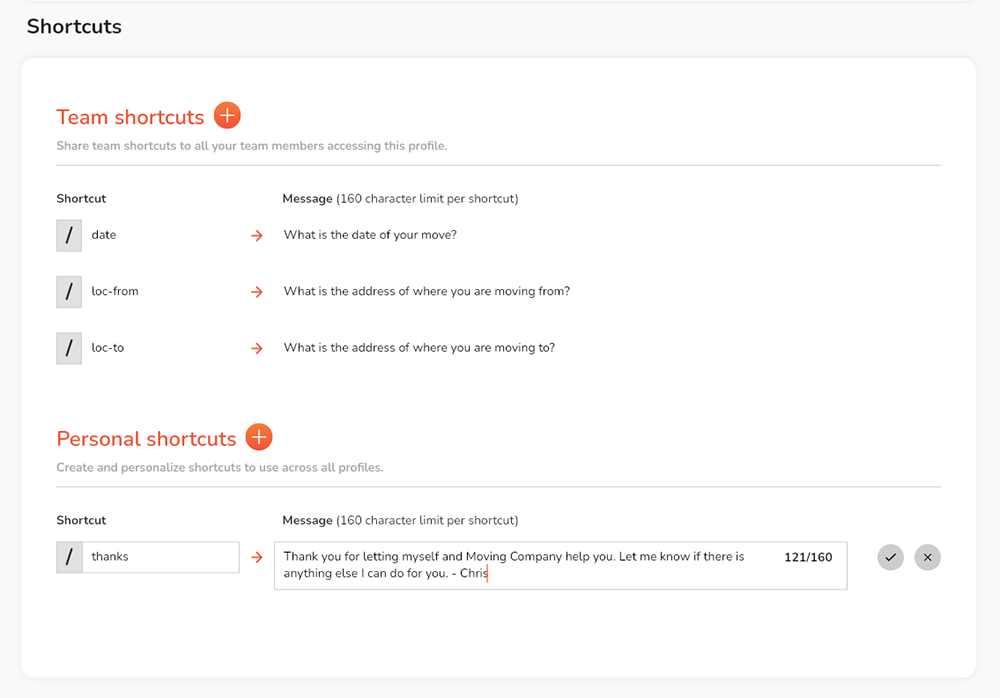 Team Shortcuts are Profile wide. These can be added by an account Admin and allow any user of that profile to use these Shortcuts. This is a great way to help your team as a whole save time, stay consistent and help your customers.
Personal Shortcuts are specific to you as a user and can only be created and accessed by you. This is a great way to set-up the Shortcuts that will benefit you and how you communicate.
Text faster, set up your Shortcuts
Now that you know how customizable, powerful and efficient this feature is, go set yours up. There are no limits to how many Shortcuts you can create, Team or Personal. Build a library of your best answers, replies and links to make communicating via text and messaging faster and easier.
Similar posts you may be interested in: