Get More Reviews With Texting
An outstanding customer experience is key to getting more reviews on Google, Yelp and Facebook. Offering 2-way texting delivers an experience your customers find worthy to talk and write reviews about.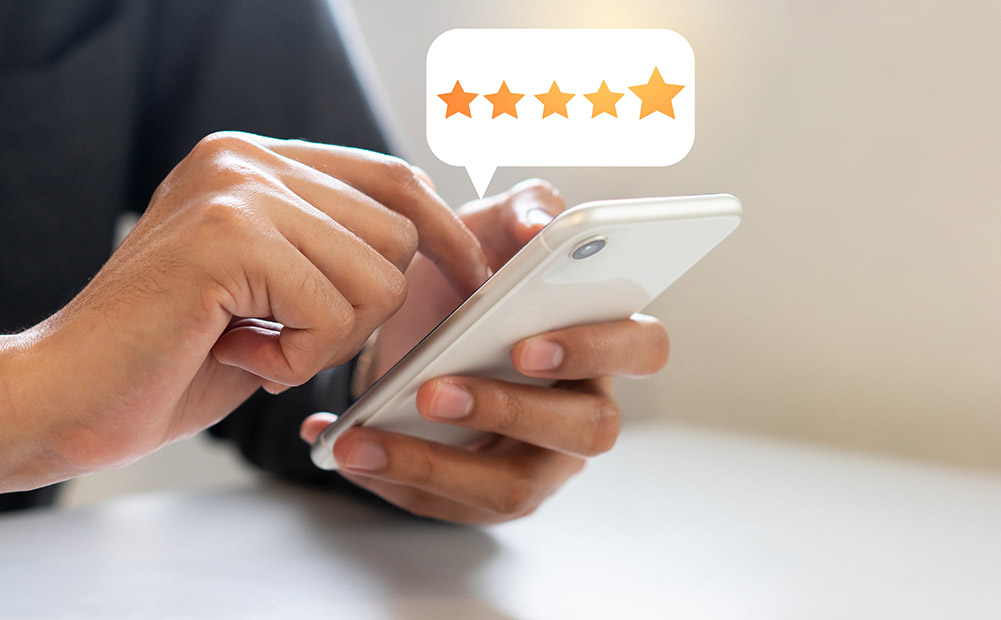 Every type of business these days is looking to get more reviews on the sites that matter to them. Having a great review rating and dozens to hundreds of great reviews helps you stand out in the Google search results and when prospects are comparing you to your competitors.
While there are many factors that go into a customer feeling so incredible about their experience with your business that they write a 5-star review, how many might be something they specifically cite in their review?
Texting Stands Out & Gets Talked About
When you make working with your business easy and fast through great communication and customer service, you are set-up to rake in the reviews. In the Google review profile below we see the "people often mention" terms include text messages, quick and easy. It's straightforward to notice here that a business using text messages for communication to answer questions and help customers impacts customers enough to write about it in their reviews.

Besides reviews directly mentioning text messages, you can see this business has a reputation for communication that is "quick" and "easy". No doubt this is supported by text communication.
Convenience & Communication For A 5-Star Experience
Today's consumer is looking to do business faster and easier. It's no surprise that 2-way text messaging can greatly contribute to this. Our own survey on why consumers text with a business revealed that 33% of consumers feel the ease of interaction was the top benefit.
The Google review below highlights that the ease of communication to ask questions and get same day answers won them over. While asking questions over voicemail, email or a webform would have accomplished the same outcome, it was the convenience of texting that became a 5-star review.

The intuitive interaction of texting, since it's the app we use the most on our phones, leads to tighter reply timeframes. Compared to email, texting sees a 60X faster reply time. These factors make faster responses possible for both sides and leads to happier customers as our next review example shows.

Text Reminders & Updates Delight Customers
While offering text messaging might be the easiest way for prospects to ask questions pre-sale, utilizing SMS in your customer service or process can boost the customer experience as well. If you look at your service or product buying process, you can likely highlight steps or times when a text message reminder or just asking if things are meeting expectations can really benefit your customer.
In the Google review below, we see the customer was ecstatic to get text reminders on when Big Blue Boxes was dropping off a storage container. The only sentences in the review with exclamation points were about the text message reminders!!! 😊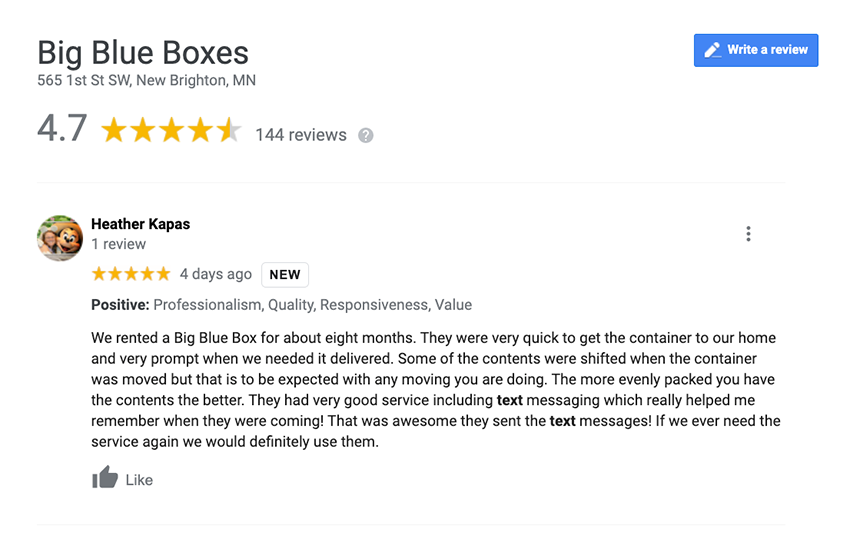 The next example is a review from an auto body repair shop. They use text messages to keep their customers updated on the repair process and answer any questions along the process. As the reviewer shared "Text communication from the shop so I knew every step of the way what was going on with my truck.". Updates and setting expectations so your customers don't have to guess or initiate contact definitely is a 5-star experience.

Asking For Reviews Since You're Already Texting With Customers
The beauty of offering texting as a communication channel with your sales or service teams is then asking for a new review via text messaging in a breeze. You've already delivered a great experience and value while communicating over SMS, so it's no big deal when you ask for a Google review as a final follow-up.
Make asking for reviews easy! ⭐⭐⭐⭐⭐  Get a demo to see how texting supercharges asking for reviews.
Leadferno allows you to ask for a review by sharing the direct Google My Business link or the review link from any review software you might be using like GatherUp, GradeUs, Reputation Builder, BrightLocal and more. Using our Shortcuts feature, your review request can be sent in just a couple of clicks.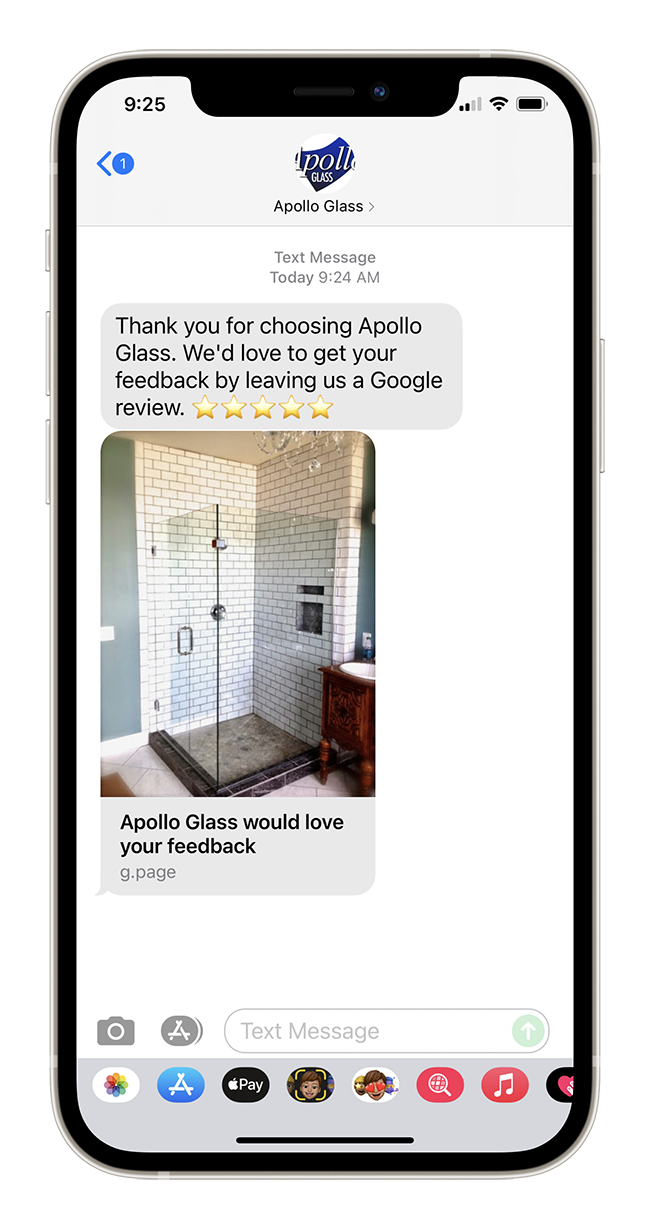 Delight Them With Texting
As we've outlined here, 2-way texting can add value to your business in every phase. Pre-sale, service and post-service or sale all benefit from texting.
In a world where customer experience is the biggest contributor to your brand and how you differentiate yourself you need to make sure you have the right tools, like texting, that make customers rave about your business, tell others and write great reviews.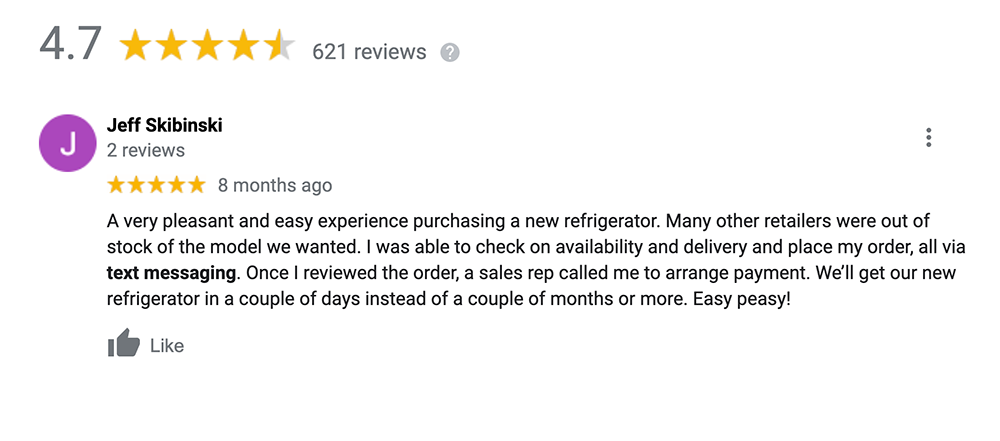 Similar posts you may be interested in: