Google's Business Messages Rolling Out To Desktop
Google's "Chat" button through Google's Business Messages seems to be part of a test to expand to desktop results.
May 11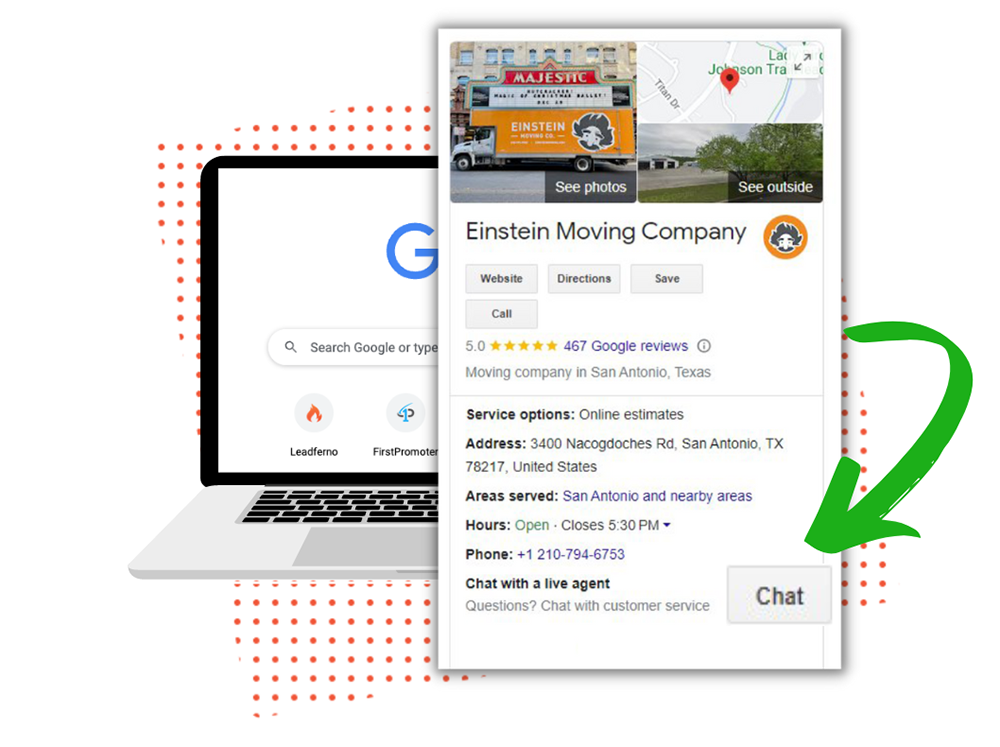 Google is testing an expansion of its Google's Business Messages to desktop searches after being a "mobile only" feature for the past few years. This surfaces a "chat with a live agent" call to action and places a chat button in the Google Business Profile.
This first surfaced at the Local Search Forums and was then confirmed by Allie Margeson of Whitespark sharing that a member of their team was seeing this too. I reached out to Allie and Hava Hadzhiibryam who are seeing the desktop test and these screenshots confirm it.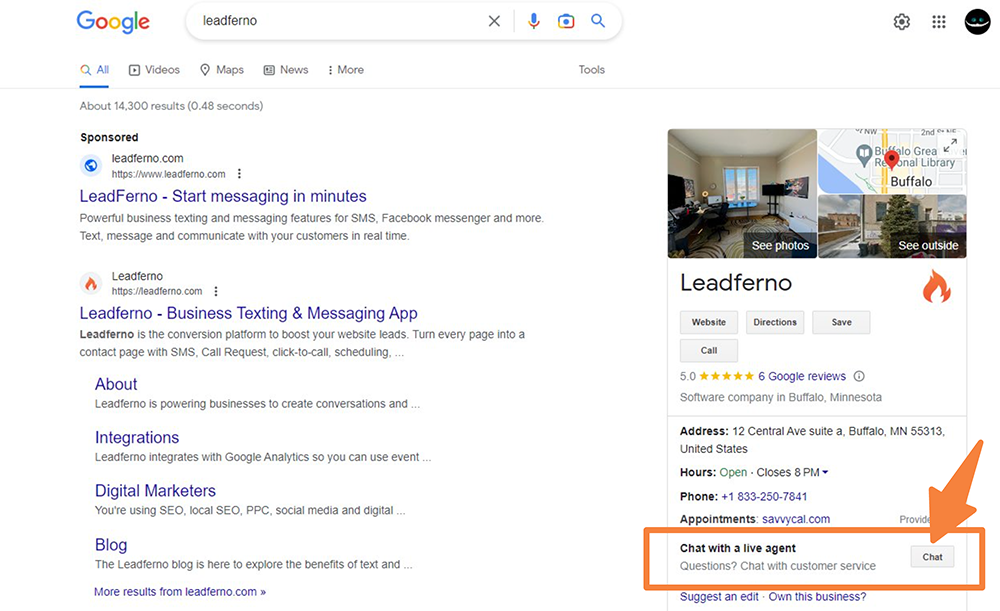 Here is another example of Einstein Moving Company which is using Leadferno to manage Google's Business Messages.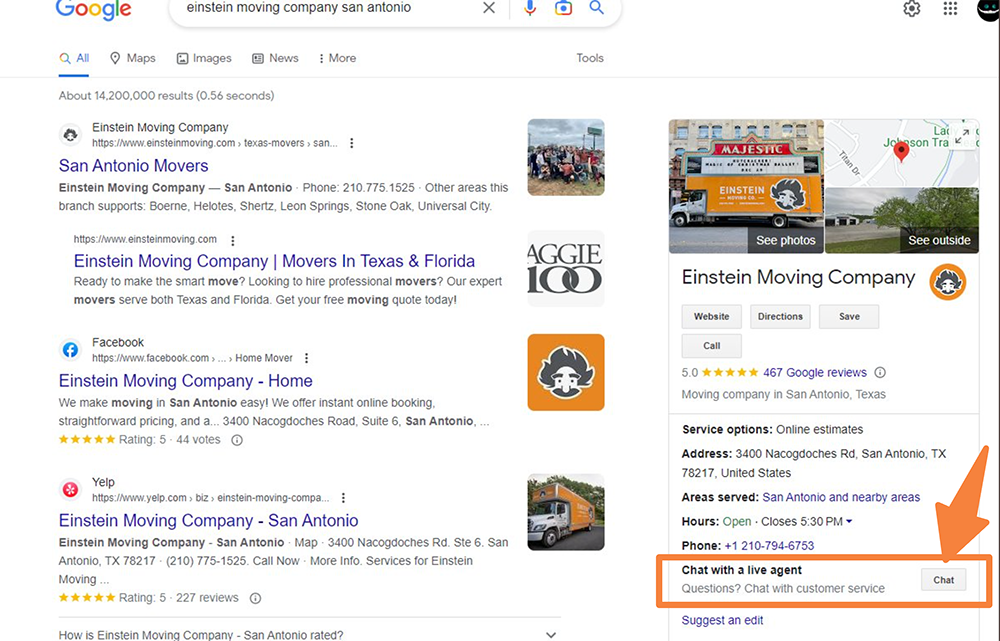 Once the user clicks the chat button the window then appears with the Google's Business Message automatic greeting you set and can then start the chat with the business.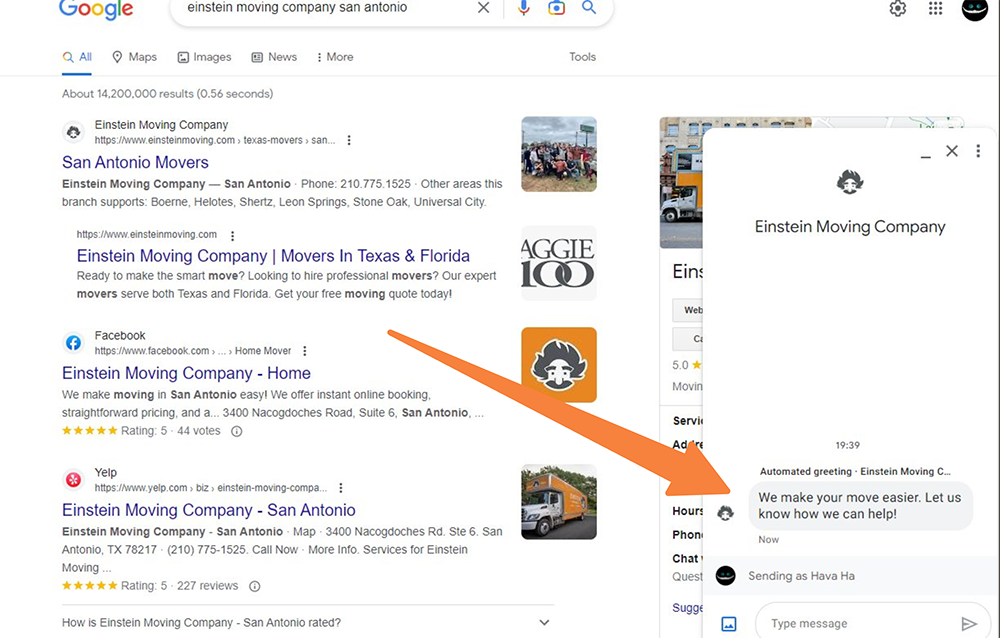 In addition to these examples, other agency staff have shared that they are seeing the desktop chat button on the profiles of their clients when they are logged in to their agency accounts. So while not live for all searchers, it is showing in the Google Business Profile panel for them.
How to enable this chat feature
This feature is using Google's Business Messages, but only through a 3rd-party integration provider like Leadferno, not currently through the feature in Google Business Profile.
Leadferno co-founder and former Google local team member Joel Headley shares "Google's Business Messages is different than Messaging through the Google Business Profile product. While they provide the same chat button to a prospect, to leverage the features of a shared inbox, integrating with a 3rd-party provider, like Leadferno, is a must."
Leadferno offers Google's Business Messages as one of our core integrations.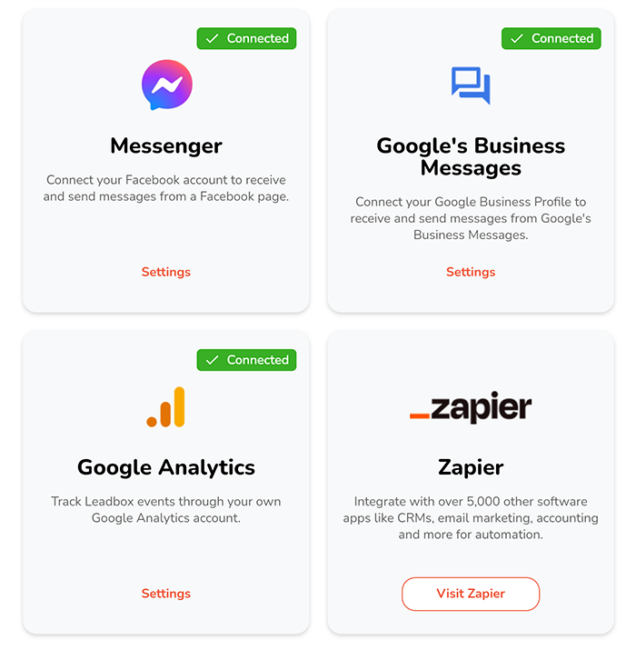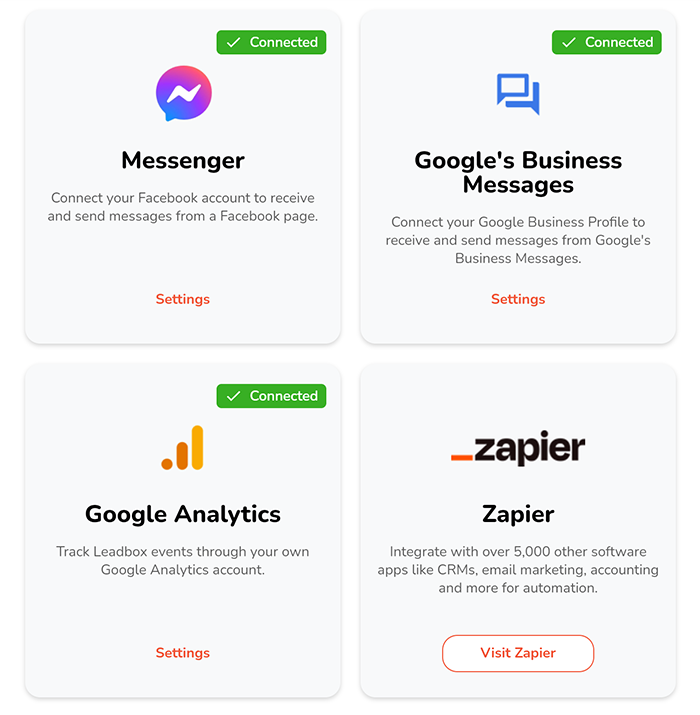 💬 Ready to add Chat to your Google search results and SMS to your website? Get a demo
Chat on Google Desktop
In addition to this current test, we have seen Google displaying the chat button in desktop searchers for some brands when searching "brand name customer service". I've noticed this most common in airlines and big retail so far.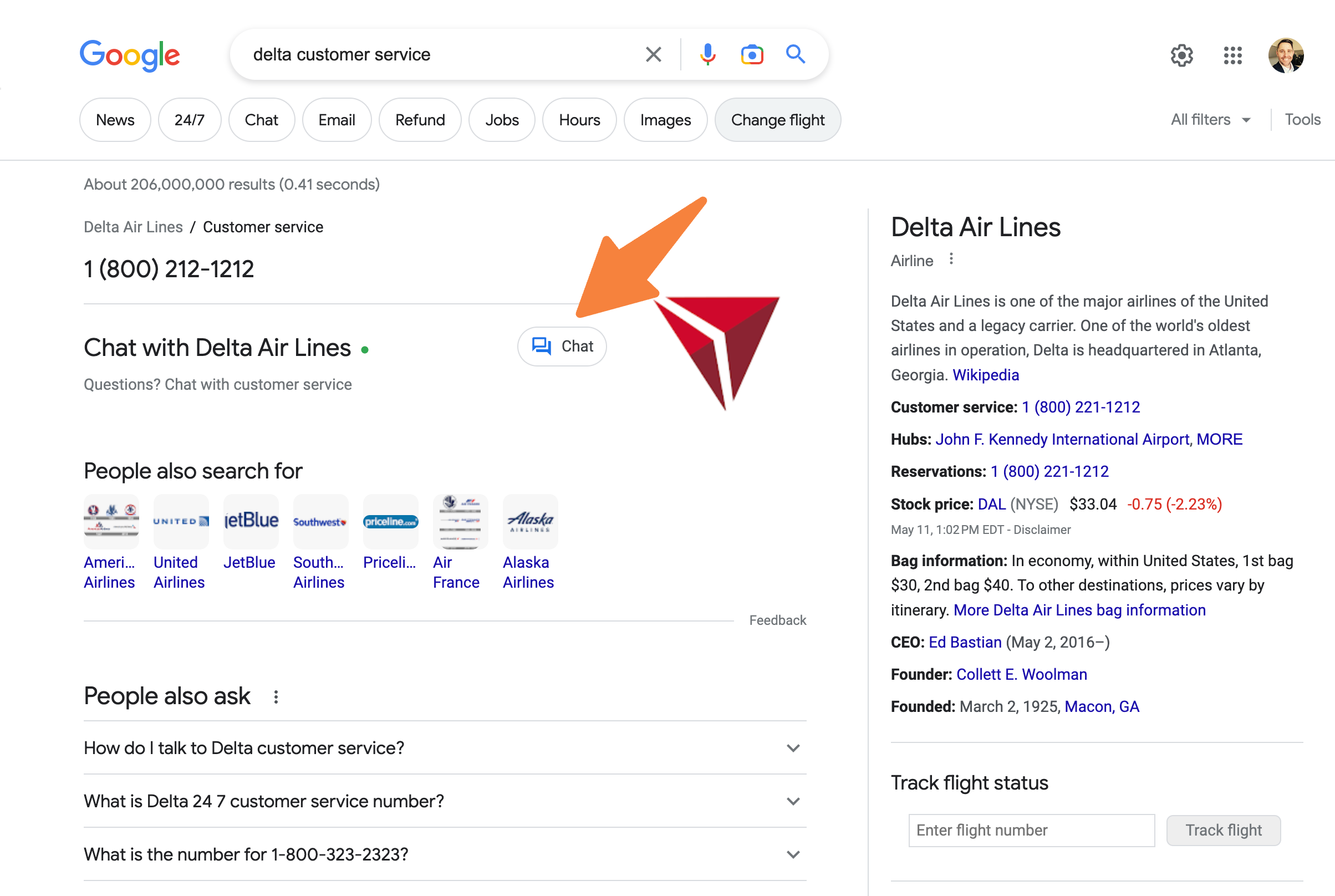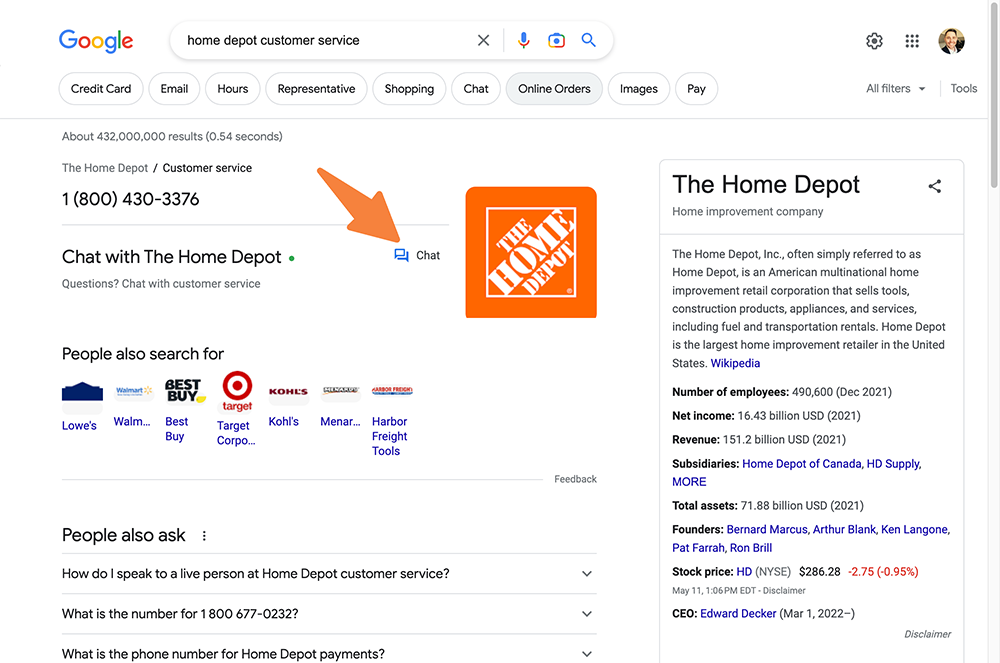 When the Chat button is clicked, it prompts the chat window in the same lower right location to start the messaging experience.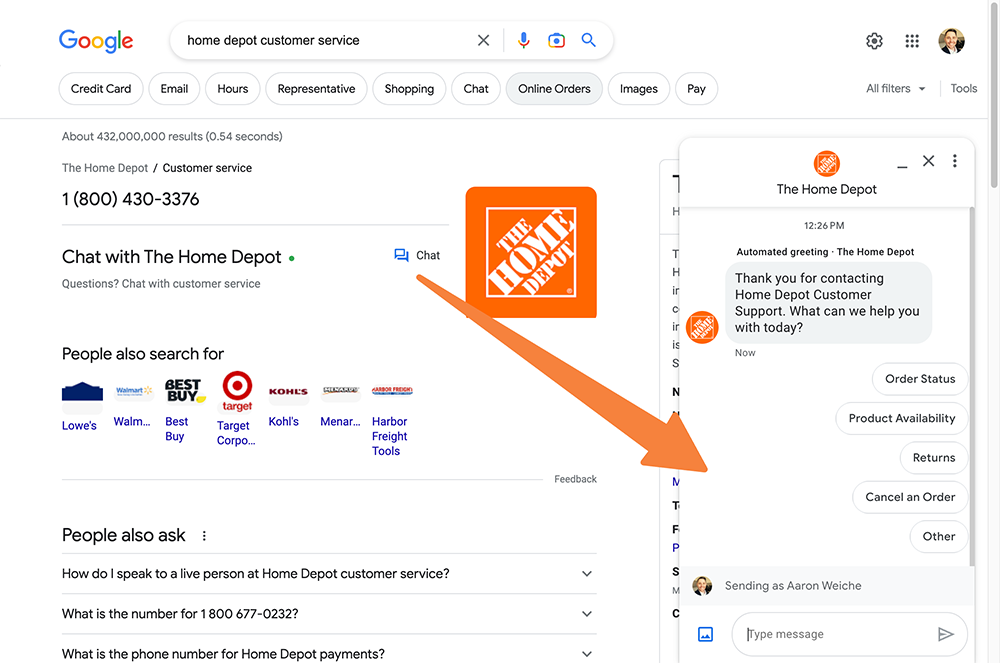 Growth for Google's Business Messages?
This test is interesting as Google's history with messaging, chat, and text features has been bumpy with a lot of start and stop solutions. Google's Business Messages appears to have some staying power and moving it from being a mobile-only feature to a desktop feature too is a significant step.
To date, brand searches are what trigger the chat option as shown in this mobile example below.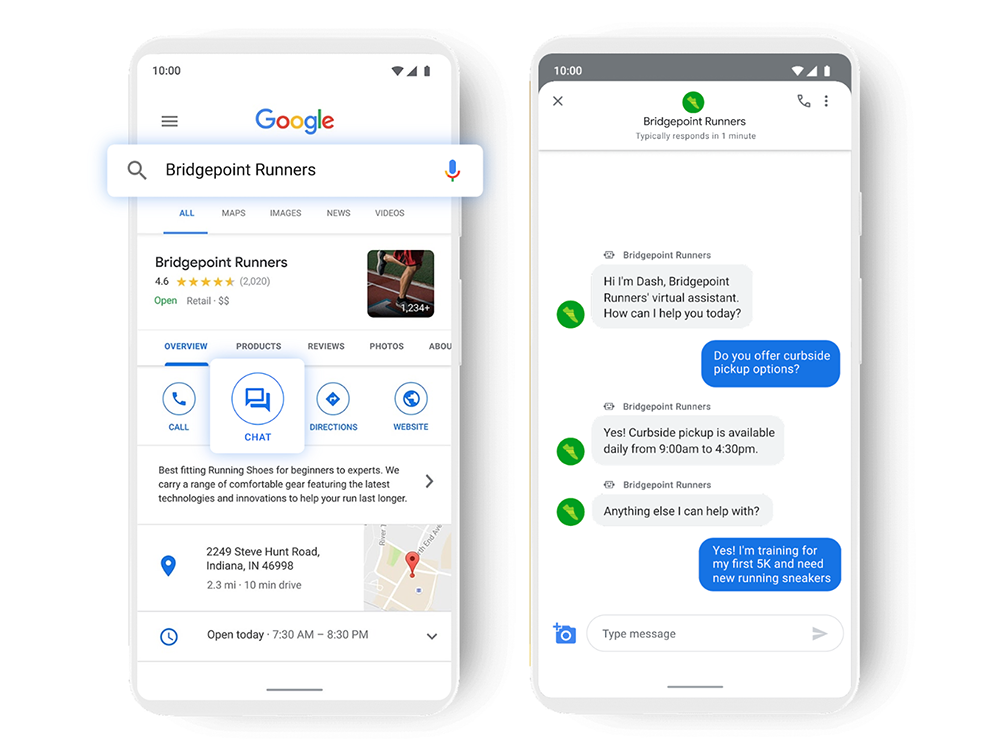 The expansion to desktops will surely raise the visibility of the feature for businesses to activate it and users to seek it. The next big step would seem to be offering it as a call-to-action for general searches and not just branded ones. Allowing users to call, visit the website or chat/message the business in the map pack result or search result would be massive.
Stay tuned!
Similar posts you may be interested in:
Categories: