Tips For Business Text Messaging Signatures (With Examples)
Using text message signatures are a small but valuable addition to your SMS communication. It makes your business texting more human, your customer happy and it's easy to implement.
Dec 20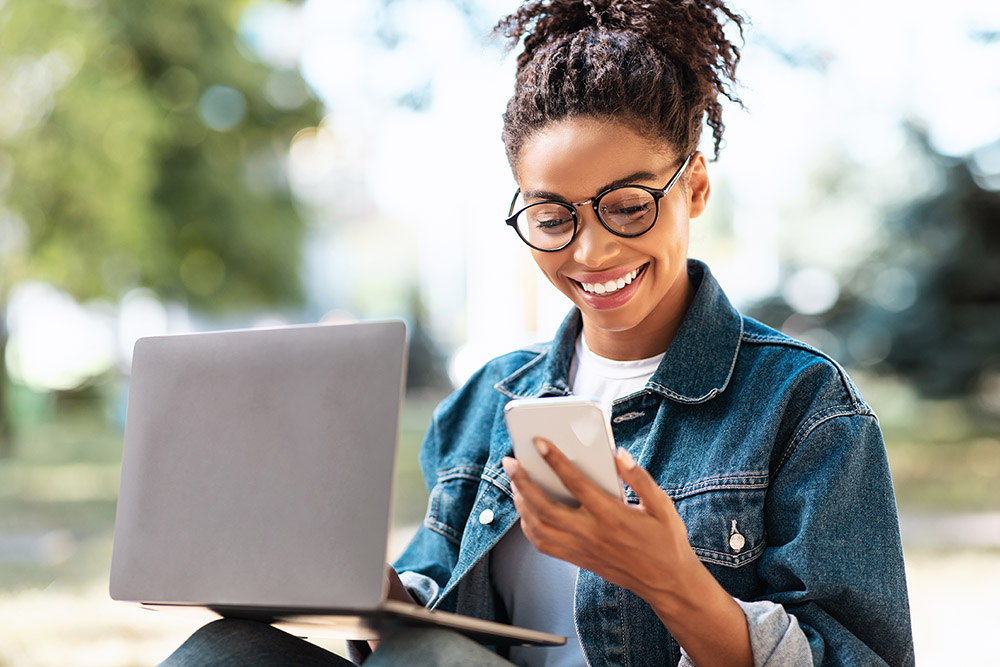 Business text messaging is a great way to connect faster and easier with your customers. This powerful communication channel can still feel personalized with the right elements and approach. One of these elements is using text messaging signatures to let your prospects and customers know they are texting with a human, not a bot.
Adding a signature to your outgoing text messages, similar to how you use an email signature, provides both a professional and personalized experience.
Why Use SMS Signatures?
SMS signatures are a great way to humanize the interaction between your business and the customer. Knowing it's a real person and not a chat bot or AI technology can increase the consumers level of engagement. Giving the consumer the exact name of the team member they are talking with personalizes the experience even further.
With a shared Inbox solution like Leadferno offers, multiple team members text from the same centralized number. Letting the customer know who they are texting with provides clarity and trust. In the event you need to transfer that customer to another team member to better help them, your SMS signature brings clarity to who is texting.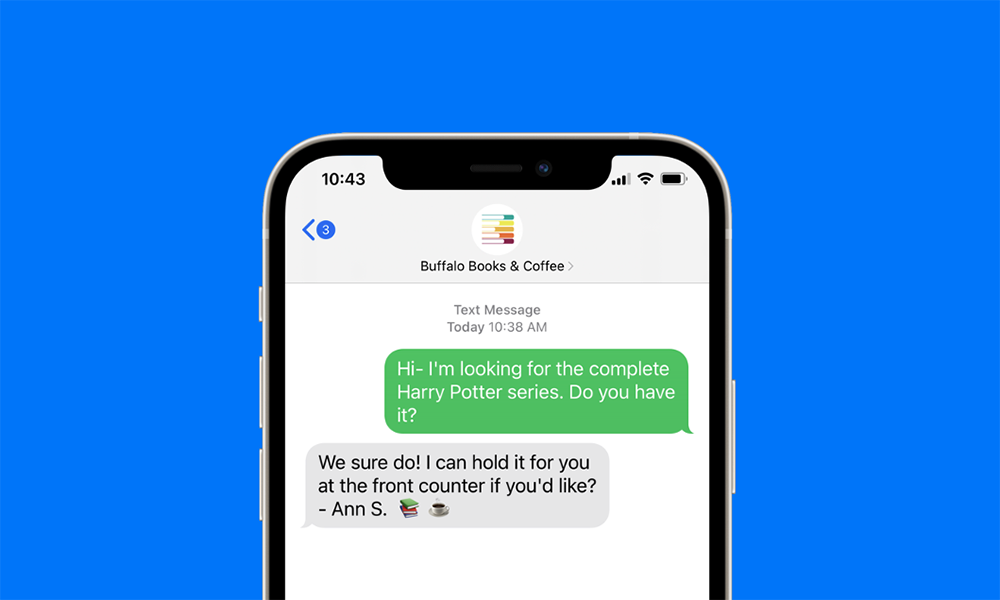 There might be some use cases or scenarios where a more general message signature like your company name, slogan, branding or specific information.
Examples of Text Message Signatures
Your SMS signature can vary based on your business type, size, industry and your market. Let's look at some example signatures.
Formal or Professional SMS Signatures
This type of signature is pretty straightforward showing the team members name and position. It sometimes can include the company name too.
– Samantha, Customer Service
– Tom, Group Bookings
– Alexis, Service Team, Uptown Ford
– Beth Jones, Owner
You could choose to always include a closing as well like "Thanks" or "All the best".
Thanks – Jeff, Support
Professional But Friendly SMS Signatures
Your brand, culture or customer base might lean to a more personal vibe while still being professional. This signature might include a small bit of flair, a brand message or an emoji.
– Alice Z., your personal shopper
– Jackson, Personal Trainer 💪
– Chris Park, Appt. Scheduler 📅
– Greg, "Your Solar Expert."
Business or Company SMS Signatures
If your communication is best served with a broader signature for the company or brand, it still gives better personalization than no signature at all. Especially if the consumer hasn't saved you in their contacts, this helps identify who they are texting with easily.
– Apollo Glass
– the team @ Northern Supply
– 🍕 Mario's Pizza
– Crown's Jewelers, "All sparkle"
You can even use this type of text signature for a specific department or team at your company.
– the Service Team at Brightway Ford
– Installation at A-Plus Heating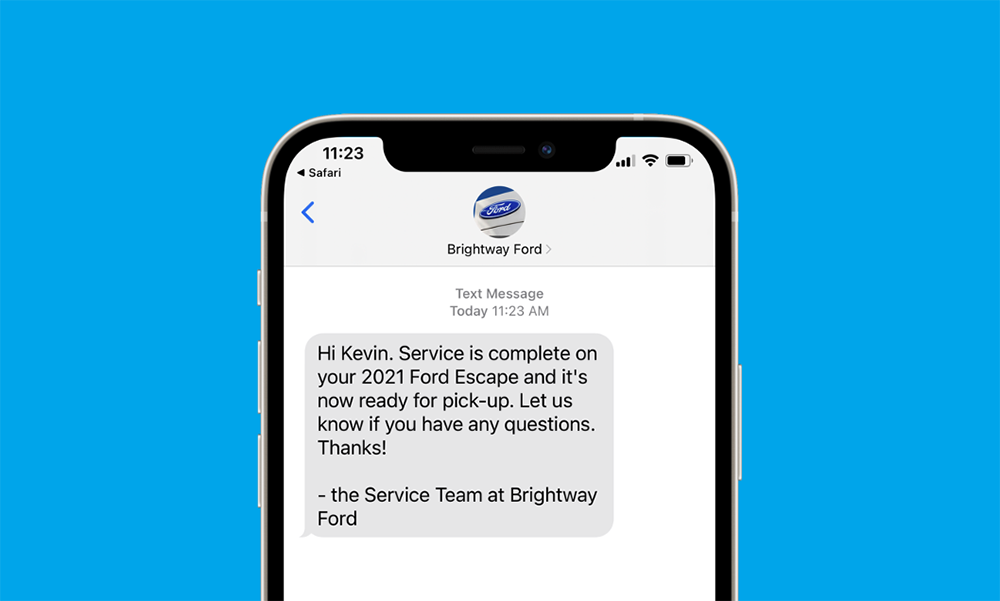 Not Only Test Message Signatures But Introductions Too
SMS signatures are a great tool, but don't forget that starting your text message with an introduction can be highly valuable too. Especially when using a shared Inbox and transferring a conversation to another team member. A quick introduction and letting the consumer know there is someone new or different than before texting with them.
Hi, this is Grace in scheduling. I'll be helping you set an appointment with our tech team. What day next week works best for you?
Leadferno Makes Messaging Signatures Easy
The good news is that a business testing solution like Leadferno can make using one or more of these signatures a breeze. Our Shortcuts feature allows you to save reply templates or snippets of a reply so you can access them in a couple quick clicks.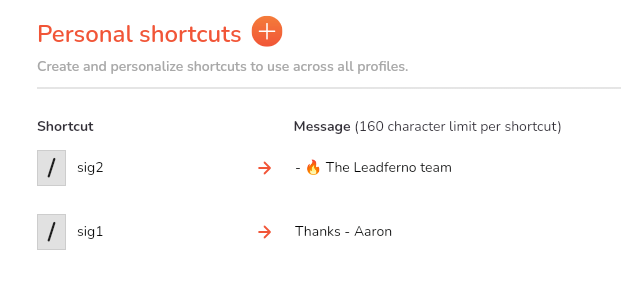 Shortcuts offer both Personal and Team options. You can create signatures the whole team can use like the company signatures we highlighted above or just for your own use.
✍️  Get your own signature! Start texting with customers while converting more website visitors to leads. Start your free trial
Why You Want To Use A Business Texting Platform
Now that you see the benefit and examples of SMS signatures, let's outline just a few of the main reasons you want to use a platform like Leadferno for your business messaging over employee's personal devices and numbers.
Scale and manage your business and teams texting capabilities with:
A shared inbox that allows your team to work as one to manage, transfer, post notes and track conversations
Auto replies to new leads and conversations to instantly connect and set expectations
Engage faster with Shortcuts, a library of saved templates for common replies, questions and answers
Our Leadbox, a web to text widget that allows website visitors to start text conversations
Customer data security by using a dedicated and managed application to store contacts and conversations, not your employees messaging app (this is a big deal)
Sending of files and photos
Connect your SMS conversations and contacts in Leadferno to your CRM and other software tools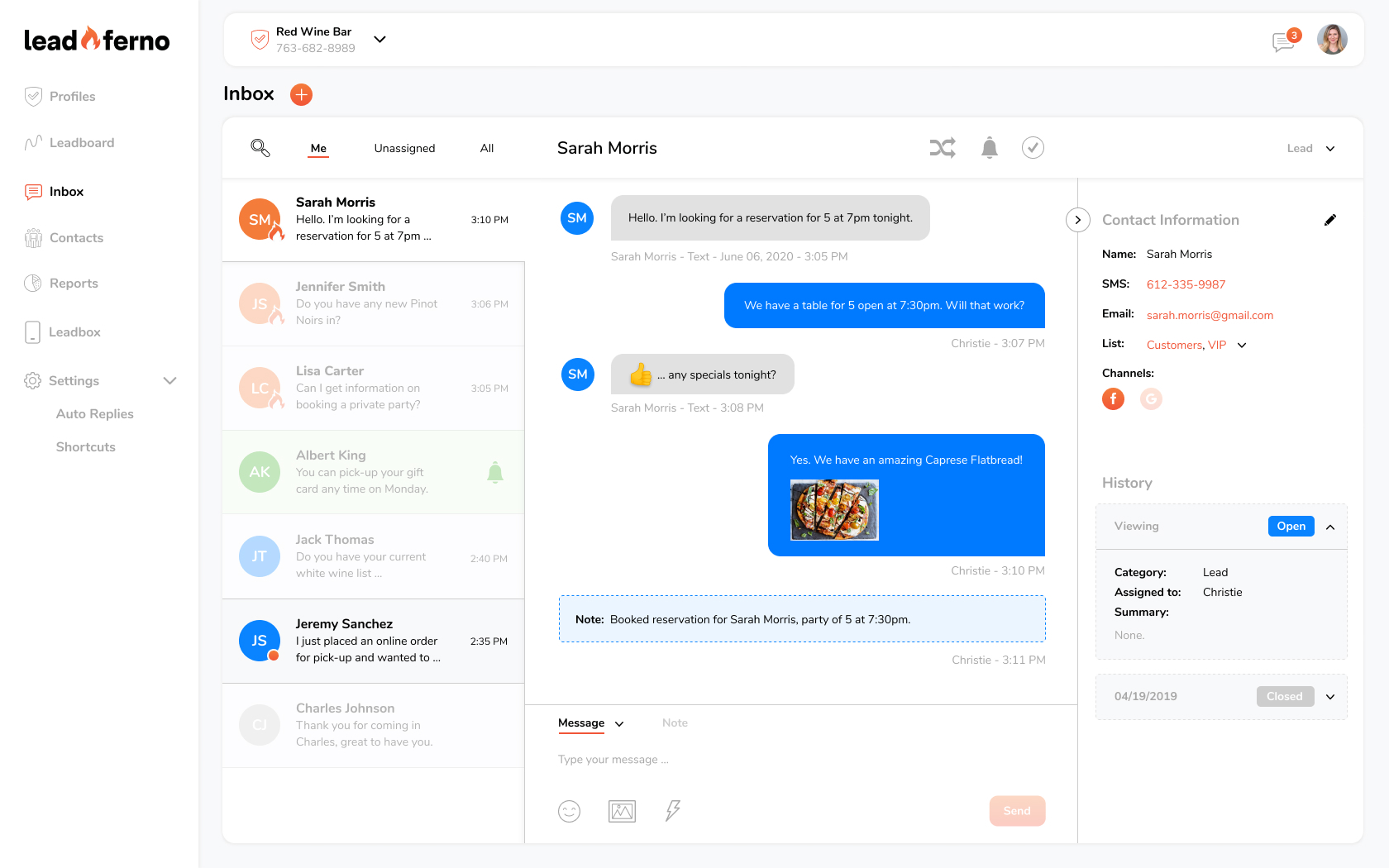 A business texting platform saves you time, adds security and improves communication. All the way down to small but helpful elements like text messaging signatures.
Similar posts you may be interested in:
Categories: