Tracking Text Leads With Google Analytics
Leadferno integrates with Google Analytics so you can use event tracking for your text leads and other calls to action.
Apr 13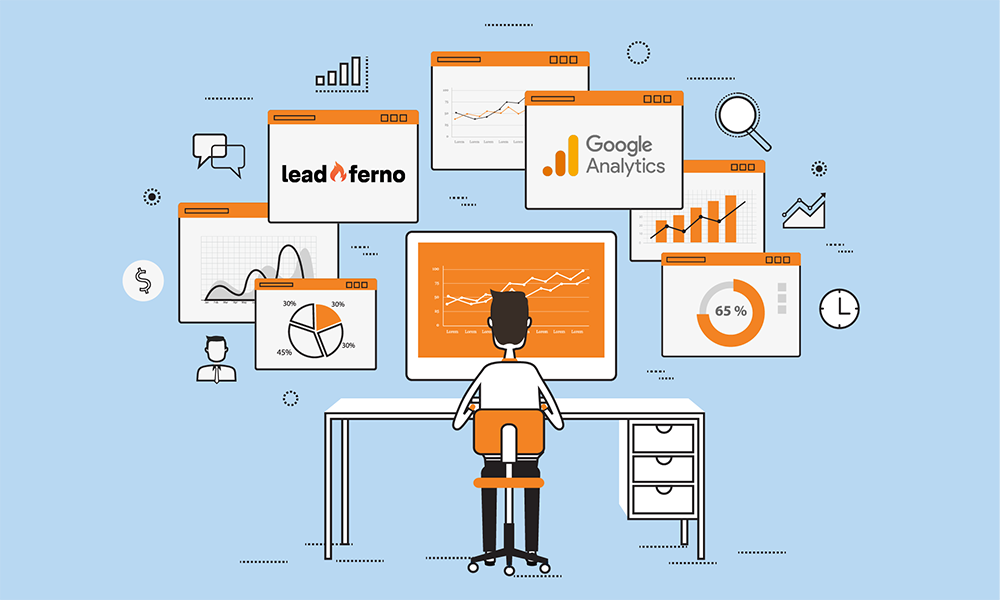 Tracking and reporting on your website traffic is important. It's why so many websites use Google Analytics to capture and surface how traffic arrives, behaves and converts. Leadferno's focus is to help convert more of your website traffic into leads using text messaging and business messaging.
To capture this data, we enable you to integrate Leadferno with Google Analytics to track your text leads along with your other call to actions through Leadferno.
Our team worked with Google Analytics expert and owner of Kick Point agency Dana DiTomaso to ensure we built a solid solution for tracking text leads and more.
Dana echoed our goals with this feature by sharing "Tracking how website visitors engage with your Leadferno widget is an important part of understanding its contribution to your overall business success. Otherwise you're just guessing! Our clients really appreciate being able to see right away what impact Leadferno is having on their conversion rate."
Event Tracking With Google Analytics
Our Leadbox, a powerful web-to-text widget, is built so that savvy marketers can convert more traffic to leads on their website. Connecting Google Analaytics informs you on what digital marketing strategies and tactics are working online to produce leads.
The Leadbox records all impressions, click or touch events, and form inputs so that you can optimize and improve conversions. To activate this feature, go to the Integrations page from the top right account menu and then select the Google Analytics integration and enter your ID.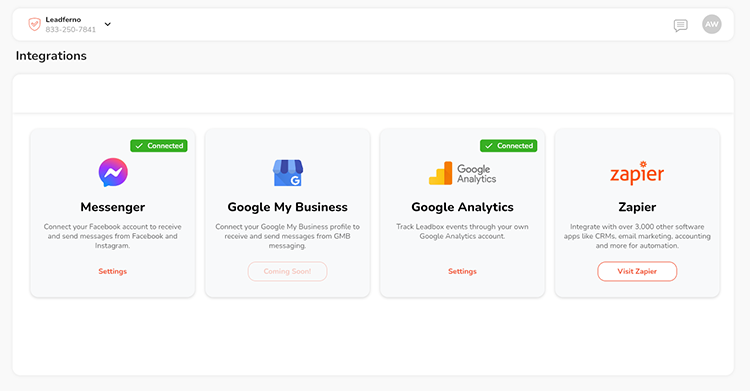 Once activated, Google Analytics events record the Leadbox loading and any actions.
For example, when the website loads, the Leadbox will record an impression of the primary call-to-action (CTA), which, by default, reads Contact. Three seconds later, the secondary CTA motions in and an event is recorded as a secondary impression.
Interaction with the Leadbox options are all recorded too. When someone interacts with a button or form field, that's a recorded event along with any error messages that may result from an incomplete form, for example, when no phone number is submitted.
You can read more about Leadbox metrics and events in our Help Center.
These Google Analytics events are used to improve the effectiveness of the Leadbox and they're also displayed in the product so you can understand your prospect funnel better. Below is an example of the Leadbox actions and event labels you will see in your Google Analytics.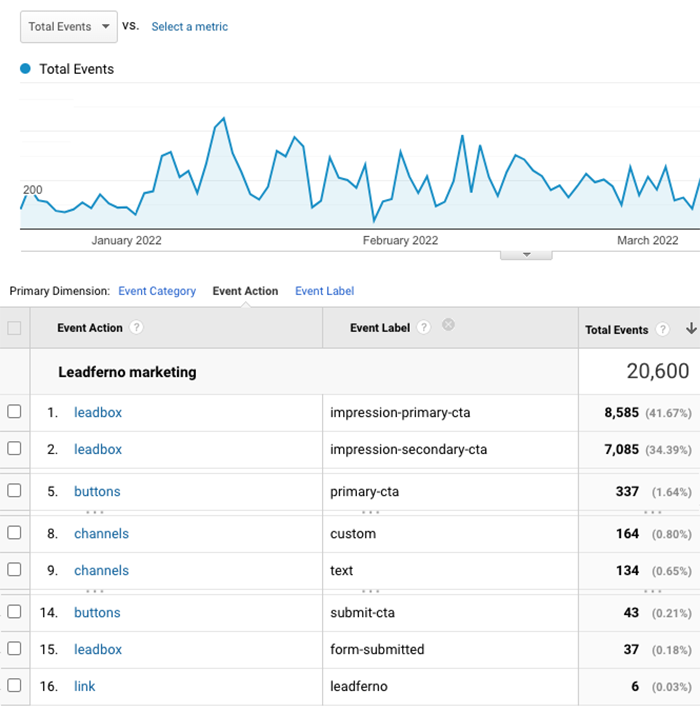 📈 Track conversions and leads now! Get a demo of Leadferno
Lead Tracking For Digital Marketing Agencies
Tracking and reporting is extremely important for agencies and SEO strategists with their clients. Using Leadferno's Google Analytics integration brings this valuable data into your reports allowing you to uncover wins, challenges, and opportunities.
Call tracking & the Leadbox
In addition to the data we can bring into Google Analytics, you can also use call tracking tools such as CallRail and Call Tracking Metrics. When you add a custom Call Channel to your Leadbox, users can click or tap to call the business right from the Leadbox. You can enable call tracking by adding your tracking script to the channel details. This allows you to unlock all the features of your call tracking provider like dynamic number insertion and call recording.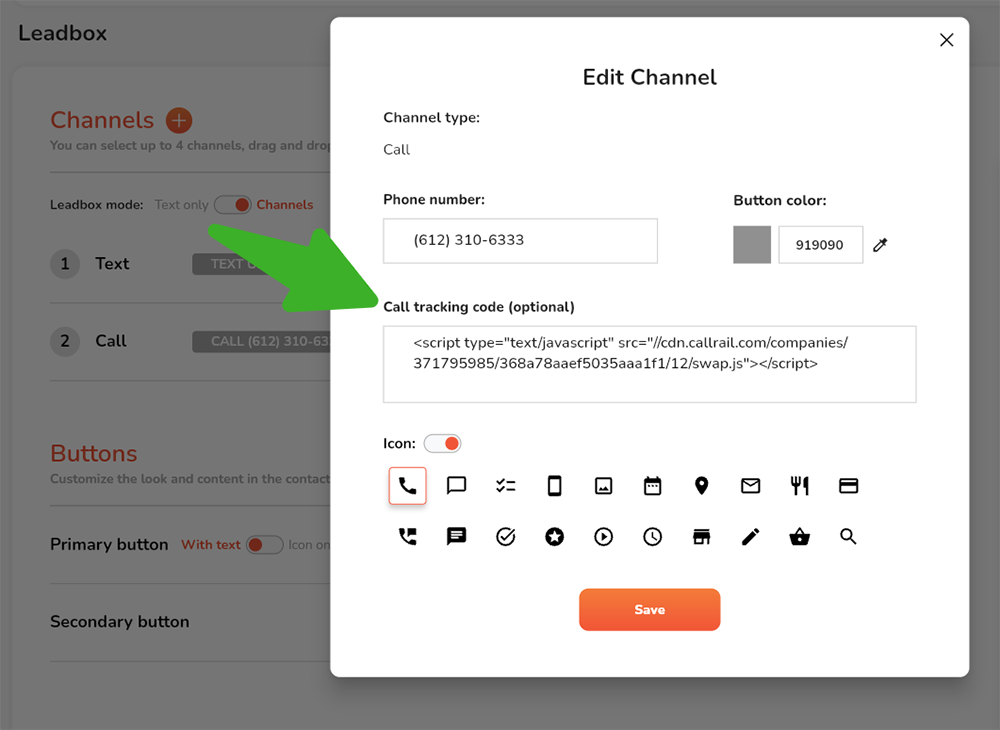 Between our Google Analytics integration, popular call tracking tools, and our soon to be released Lead Capture Report, you can give your client a clear picture of their lead data, text leads and performance.
Increasing Leads And Conversions
Some key insights with our initial customers using the Leadbox on their website show that 45% of website visitors mouse over the Leadbox calls-to action.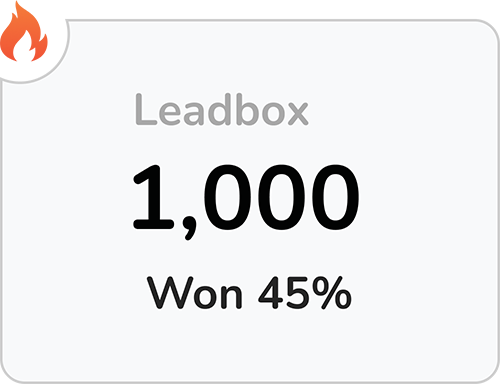 Awareness that you're available to contact is key for visitors to start communicating with you. Leadferno's floating CTAs make that happen.
The conversion performance of the Leadbox is strong as well.
Over 20% of visitors that open the Leadbox ultimately send a text message to the business. And for those text messages, 45% of them are resulting in leads that are marked as won.
We're are hyper-focused on conversion and the lead capture performance on your website. The Leadbox is a fantastic tool for businesses to convert website visitors into customers and tracking your leads with Google Analytics is the ultimate combination.
Similar posts you may be interested in:
Categories: