Webinar: Rankings Are Great, Conversions Are Greater
See how to optimize your Google Business Profile and your website for more conversions and leads. A joint webinar from Leadferno and Whitespark.
Nov 14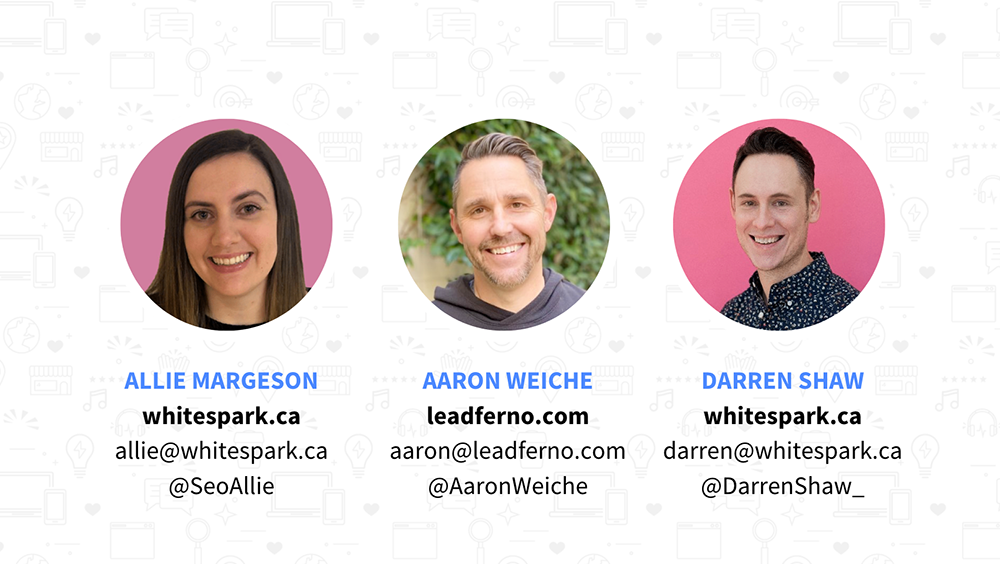 Getting your website and Google Business Profile (GBP) to rank well is hard work. Make sure you are maximizing those efforts by also focusing on conversion. Turn your views and visitors into leads, that's the end goal that matters with your digital marketing.
I was joined by local SEO experts Darren Shaw and Allie Margeson of Whitespark on this hour-long webinar packed with conversion tips. Here is the full webinar recording and some of the highlights from the presentations below.
Reviews Are The Key To Google Business Profile Conversions
Darren Shaw opened the webinar by looking at the latest Local Search Ranking Factors (LSRF) on what specific factors contribute the most to conversion. It probably doesn't come as a surprise that reviews dominate the top spots according to LSRF's group of local SEO experts.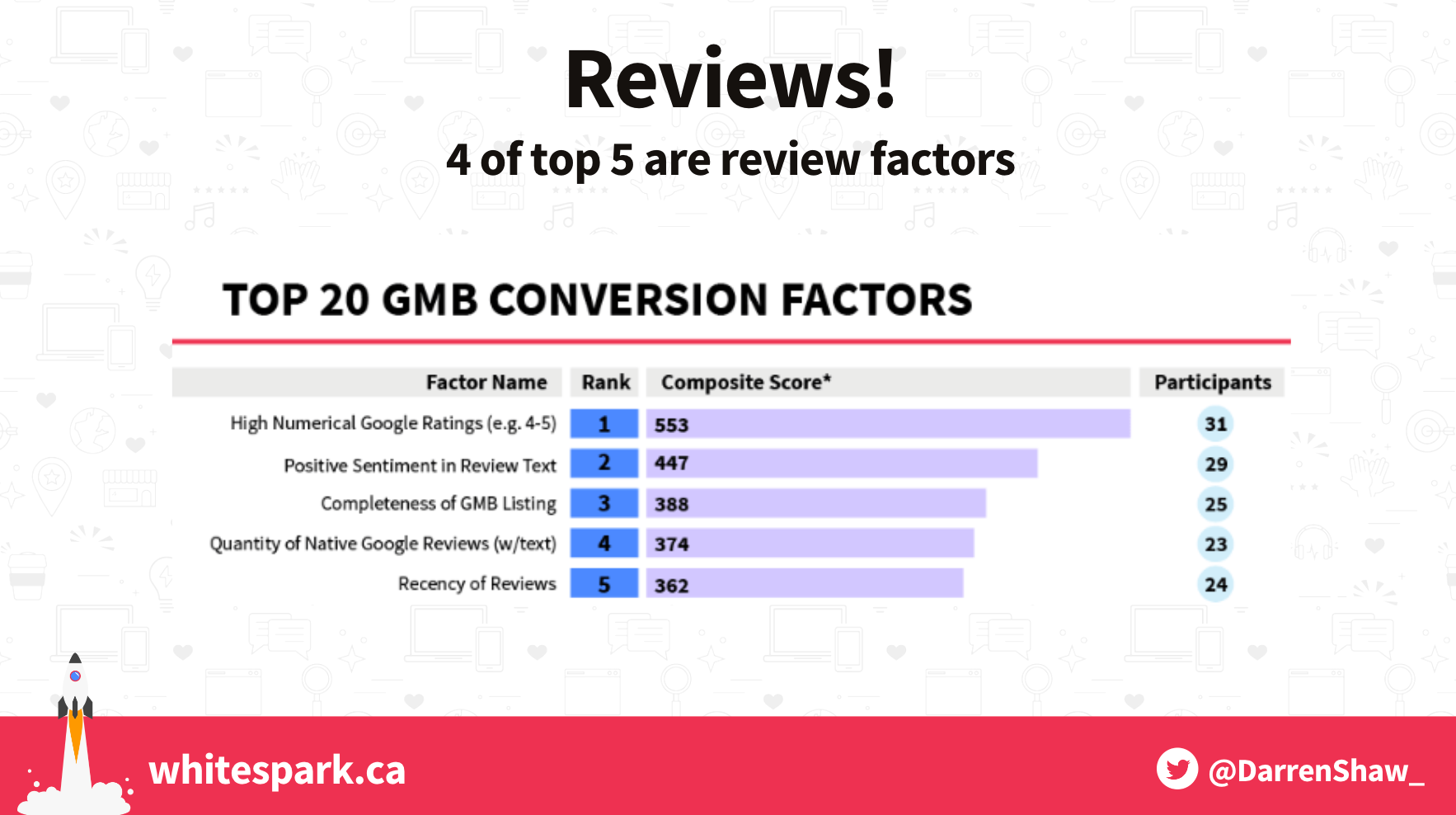 Social proof is a significant driver of the trust, details, and emotions that searchers desire to feel confident to take action. The visibility of review stars, ratings, and quantity in the local search results and Google Business profile both draw the eye and inform the prospect of previous opinions on the business.
Darren also touched on the impact of Google Posts and recommended that you post one weekly to your profile. He wrapped up his talk by pointing out that a business should maximize all GBP elements to get the most out of their profile.
Take the time to add photos, services, products, and more to contribute to a compelling listing that converts.
Conversions fueled by booking and messaging
Whitespark's Allie Margeson focused on two of the conversion tools built into Google Business Profiles, booking and messaging.
Booking
Booking is a CTA in Google Business Profiles, but only available for four verticals at the moment. Dining, activities (events, tickets), beauty, and fitness. The booking feature is GBP category specific.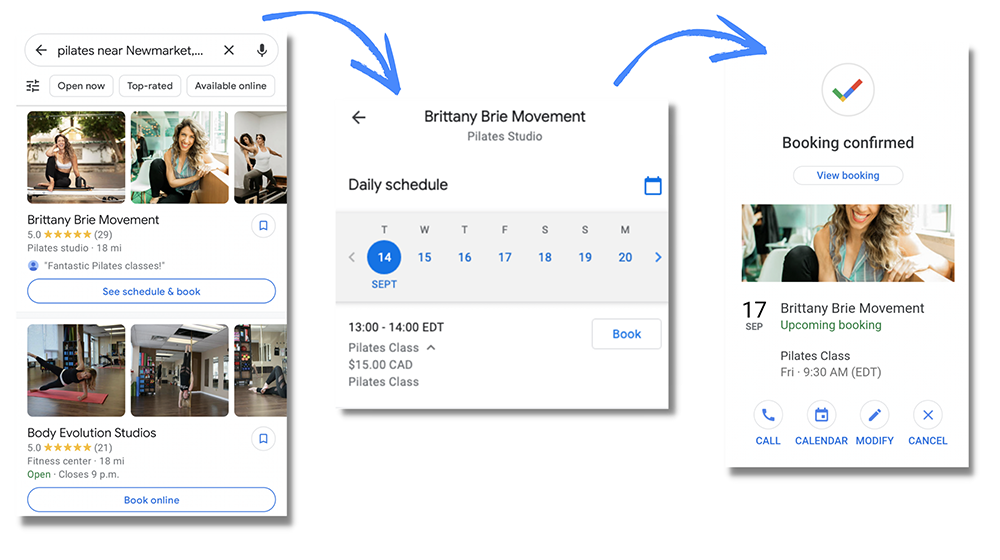 If booking is available to your business it can be a powerful conversion tool. Allie shared that over 50% of booking users are first-time customers with 40% of bookings made after hours. Consumers want easy booking services like this with one survey showing over 95% are more likely to choose a business that offers online booking as 59% find booking by phone frustrating.
If booking is available to you, you definitely want to test it out.
Google's Business Messages
Available to all businesses is the feature Google's Business Messages. This feature allows prospects and customers to chat with your business right from your Google Business Profile on mobile.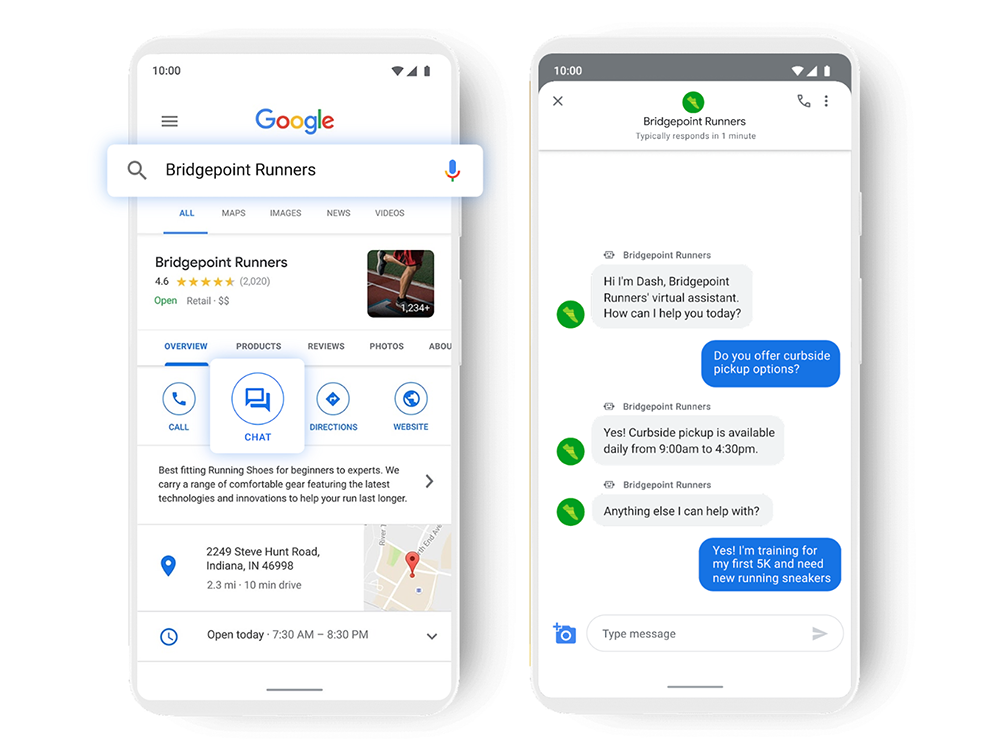 The benefits of messaging are many for your customers and your business. It's accessible, immediate,, and it's easy to manage. You can manage Google's Business Messages right in your Leadferno app along with Facebook Messenger for one messaging inbox.
One thing to note that the panel and attendees commented on is that Google's Business Messages does have spam issues. Keep this in mind when testing this conversion tool.
Website Conversion – Maximizing leads from your web traffic
Wrapping up the webinar I talked about how to increase your focus on the bottom of the funnel and give yourself every opportunity to convert more website visitors to leads.
Clear Calls-To-Action
My first main point was to make your calls-to-action highly visible and clear. The last thing you want to do is make the prospect hunt for the next step or how to engage with you. This is the main reason we created our Leadbox buttons to be floating buttons, always on the screen.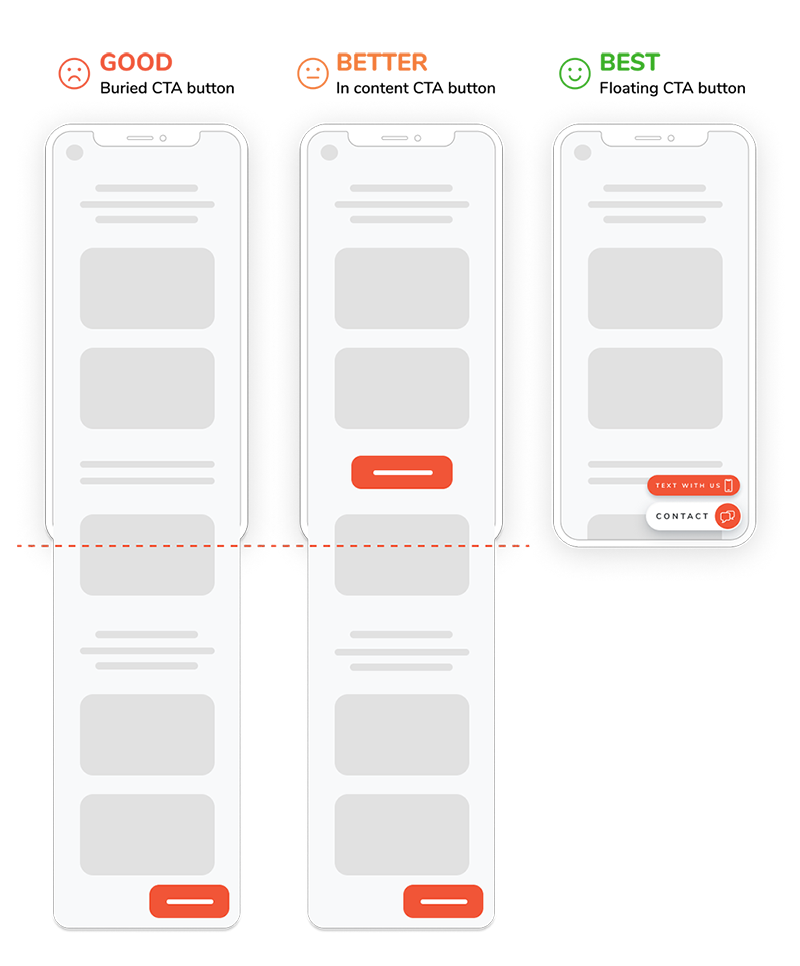 Be easy to work with – add text messaging
It's always true, businesses that are easy to work with get more business. A big way you can make your business easy to work with is by offering the communication channels your customers want to use.
Text messaging is the preferred channel of communication. It tops phone and email thanks to its ease and speed.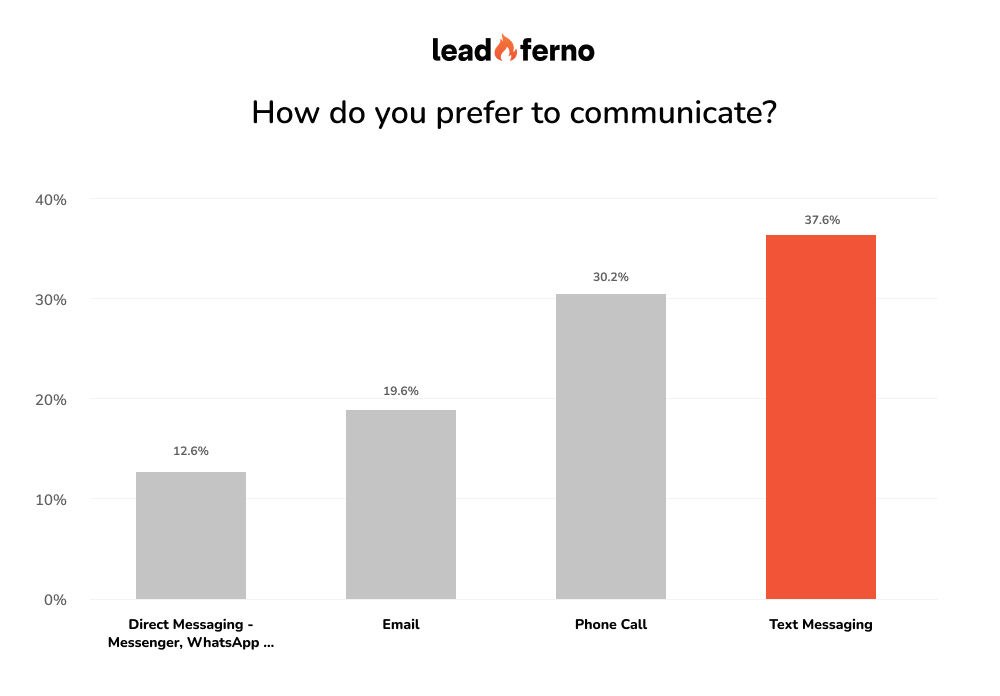 Giving your website customers the ability to text your business as a conversion option increases conversions by an average of 15% and sometimes as high as 200-300%. 2-way texting might be the lowest barrier to entry for prospects to ask questions, get more information and engage with your business.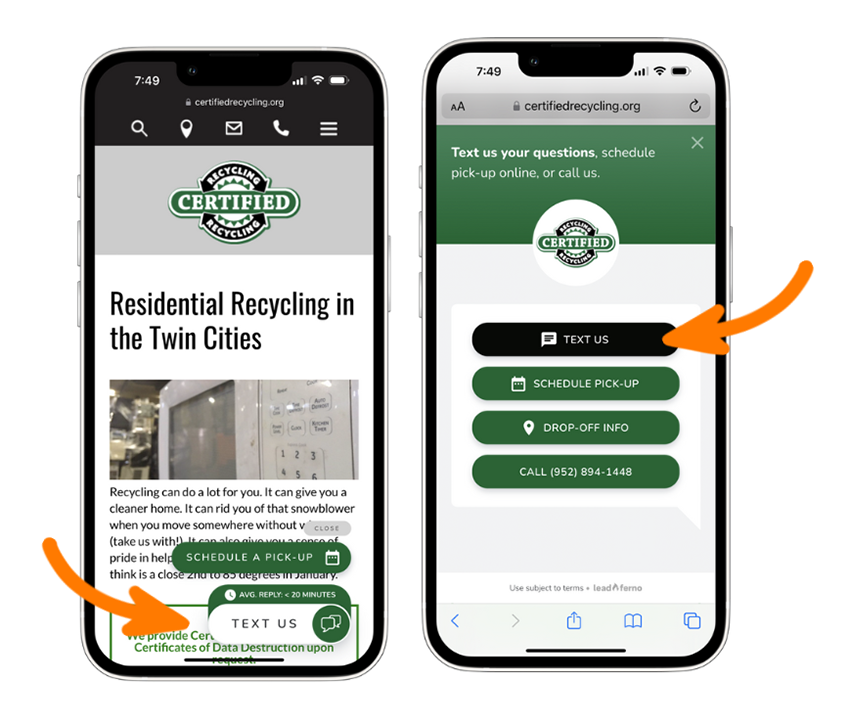 Conversions increase when you offer the options to engage your customers want. While texting can boost conversions, you still want to offer multiple ways to start a conversation. Make it easy for prospects to take the first step with the communication method they desire.
Social proof builds trust
Consumers find the social proof of others experiences to be reassuring. Use your reputation to boost conversion by displaying your reviews. Marketing your reputation within or next to your call-to-action in a great combination.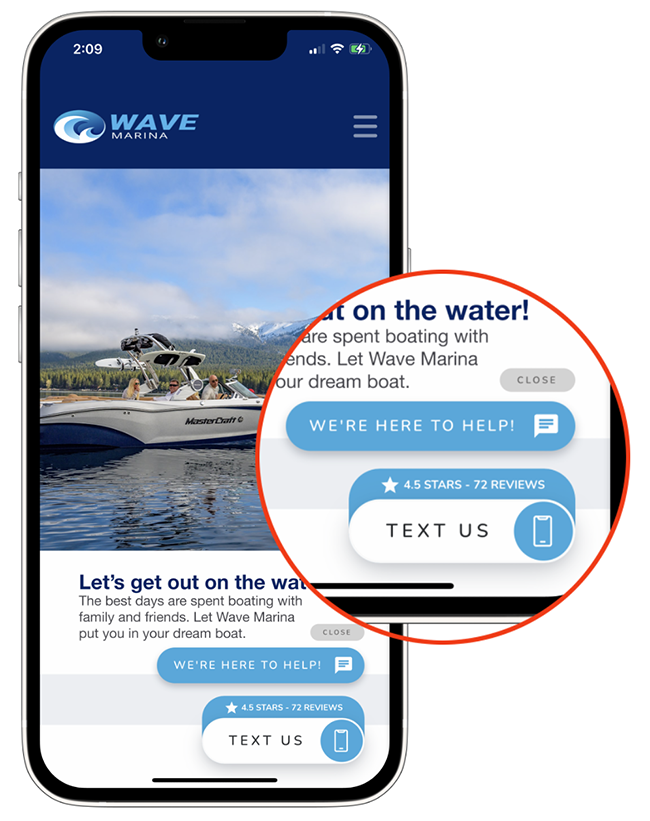 Put these conversion tips to work
Our webinar provided a lot of conversion tips and ideas you can start using immediately. Watch the conversion webinar in full to see. everything we covered.
Similar posts you may be interested in:
Categories: