Enabling Agency Partners to Improve Client Performance
Leadferno's improved Partner Dashboard delivers you helpful client metrics, management, and news for your agency.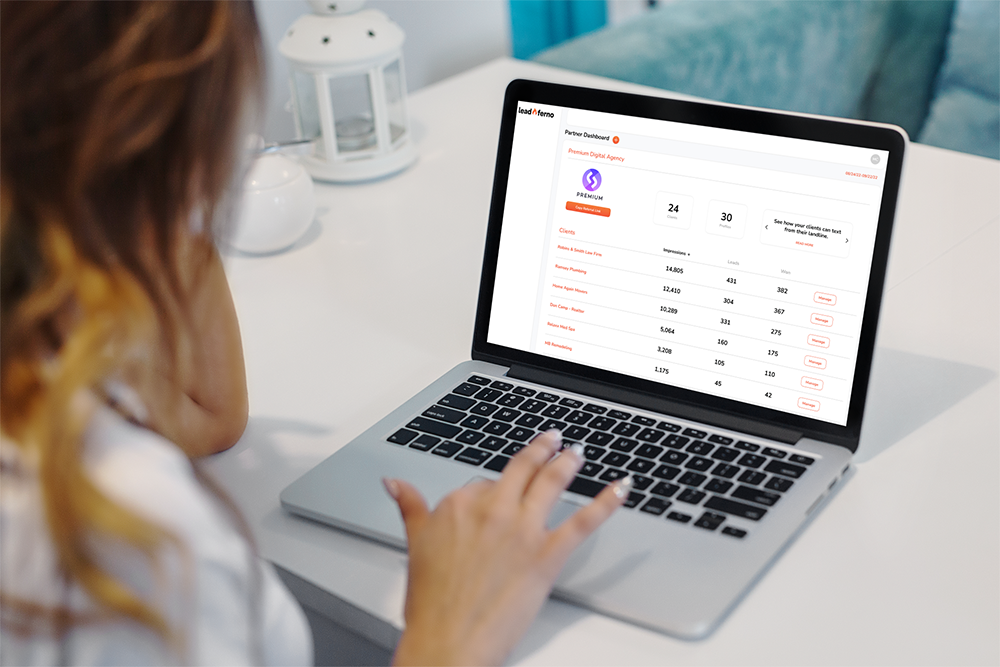 To improve the experience for our agency partners, we've updated the Partner Dashboard to ensure partners can help their clients using Leadferno for conversions and business texting.
Key aspects of the partner dashboard include automatically adding clients when they use your referral URL to sign up, default admin access for your internal team, at-a-glance metrics, and partner news.
New clients added to the new dashboard
When a new client signs up from your referral URL, you'll see them listed in your partner dashboard on the same day. For partner accounts, signing in on the web (desktop) app will redirect to your client list upon signing in. There, you'll see a manage button that will take you directly to the client's Inbox, allowing you to grab their Leadbox embed code to add it to their website.
Admin access for your agency and team
Your team will get admin access by default to your clients' Leadferno account. You'll be listed on their Team page as a Partner Admin. Each member of your team will be given the role of admin for access as well.
As an admin, you have the ability to update the Leadbox settings, business hours, auto-replies, and add shortcuts. You know your client's business the best and help them get ready to thrive with business texting.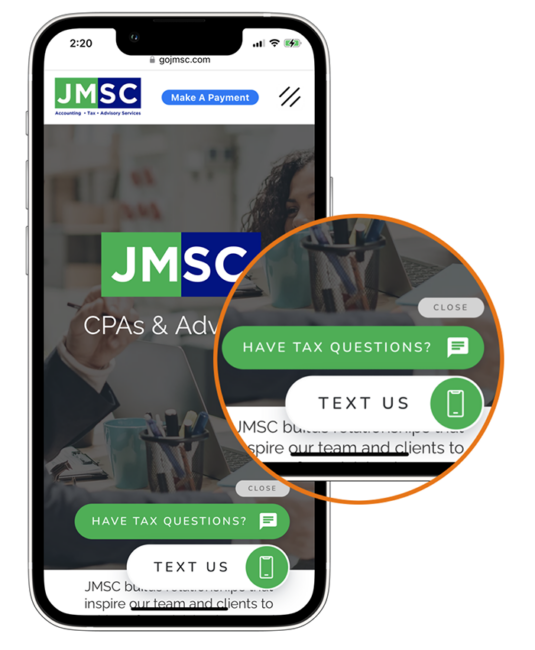 The client account owner can choose to make your role Read only for all partner accounts. The partner accounts aren't counted in the user limit for the plan.
At-a-glance client metrics
As a partner, you have access to the client account to see the Lead Capture report and also to set up Google Analytics which will send events to the website's analytics property. However, you might just want to be able to check on the overall health of your client with messaging.
The at-a-glance metrics include Leadbox impressions, total leads, and leads closed as won for the last 30 days. This allows you to check on any given client to help them overcome any potential red flags.
Using the partner dashboard
The partner dashboard offers at-a-glance metrics that will allow you, as an agency that cares about your client's web traffic and conversion, to quickly check on the health of your client.
The partner dashboard gives you a button to copy your referral link and send that to your clients. If you're signing up for them use one of their email addresses and open the referral link in a new browser session (e.g., incognito).
You'll see how many accounts and how many profiles have been created with those accounts (including yours). There is also a news section that has blog posts, announcements, or other useful information for partners to be successful.
👋 Become a partner today. Improve your client's conversion with texting. 
Key metrics
Use the at-a-glance metrics to ensure your clients are getting and closing leads via Leadferno. The three metrics are simple, and you can not only quickly assess the health of your client, but also check for any red flags that should be fixed as soon as possible.

Impressions
Impressions display the number of times the Leadbox has loaded. Essentially, this should match the number of pageviews on the website where the Leadbox is installed. While we recommend the Leadbox is installed on every page of a site, take note of special installations and recognize where the numbers could different.
Beware of a client red flag: zero impressions could mean the Leadbox hasn't been installed correctly on your client's site. If the Leadbox isn't installed, clients can still send text messages and receive them directly, but they won't be able to leverage the SEO or SEM work you've put into their website to collect leads.
Leads
The number of Leads includes messages sent from the Leadbox, direct SMS, via Google's Business Messages, and Facebook Messenger. These are all messages that created a new thread by a prospect or customer. They don't include threads created by the client to send an outbound message.
Beware of a client red flag: zero new leads means the Leadbox, Facebook Messenger, or Google's Business Messages haven't captured any new leads. If the Leadbox is installed, be aware that website plugins, particularly other widgets, could interfere with prospects interacting with the Leadbox.
Also, it may mean that the calls-to-actions (CTAs) could be more compelling. Here is a list of 30 ideas for Leadbox buttons to improve conversions. Additionally, other channels like Messenger may not have been properly configured.
Take a deep dive: jump into your client's dashboard to look at page-level metrics. Perhaps some pages aren't converting well, and you might consider offering your clients additional content services to improve their SEO.
Won
When closing a lead, it can be marked as won, lost, or other. Here, we'll count the leads marked as won and received in the last 30 days. Two things to bear in mind, each business might qualify a "win" as something different. At Leadferno, if a demo is scheduled, we'll count it as a win, but it could be a sale or some other event that is valuable to the business.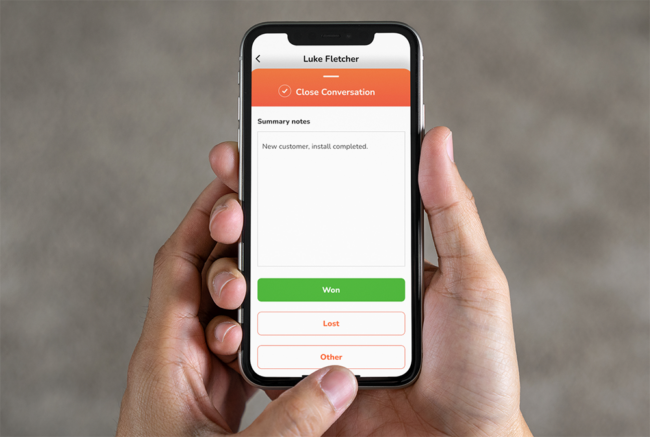 Beware of a client red flag: with plenty of impressions and new leads, zero leads marked as won may indicate that the traffic and resulting leads aren't qualified. Or that your client isn't responding to or closing leads from Leadferno.
They may need additional training or help on how to interact with prospects. Not to fear — you can help get your clients to be successful. And, with a ton of marketing experience under our belt, the team at Leadferno can jump in, do a refresher demo, or give them tips on how to better handle prospect communications.
Take a deep dive: check out the Inbox of your client. Are they responding? Are they marking everything as "other"? Try defining a key outcome that your clients would consider a win for your client's business. That can help them not just improve reporting, but also enhance the discussions they're having with clients.
Troubleshooting
Number of clients
If clients aren't appearing on your dashboard within the day, they may have not used the referral link to sign up. Just message Leadferno support, and we'll be happy to add them to your dashboard.
Metrics
The metrics cover the last 30 days, ending with yesterday. They aren't real-time. So, if something happened today, expect to see it reflected in the metrics tomorrow.
Drive success for your agency and with your clients
We want our agency partners to be able to use Leadferno to improve client success. We believe that a deeper understanding of their business and workflows will make your jobs easier and more focused on the things that improve your business and theirs.
If you're not an agency partner yet, or you're a partner that hasn't seen any client conversions, the Leadferno team can help. All we ask is for an introduction, and we can do the rest.
Similar posts you may be interested in: