Text Messaging For Lawyers
Generate more leads and new cases for your law firm. See why text messaging for lawyers is a big win.
Mar 28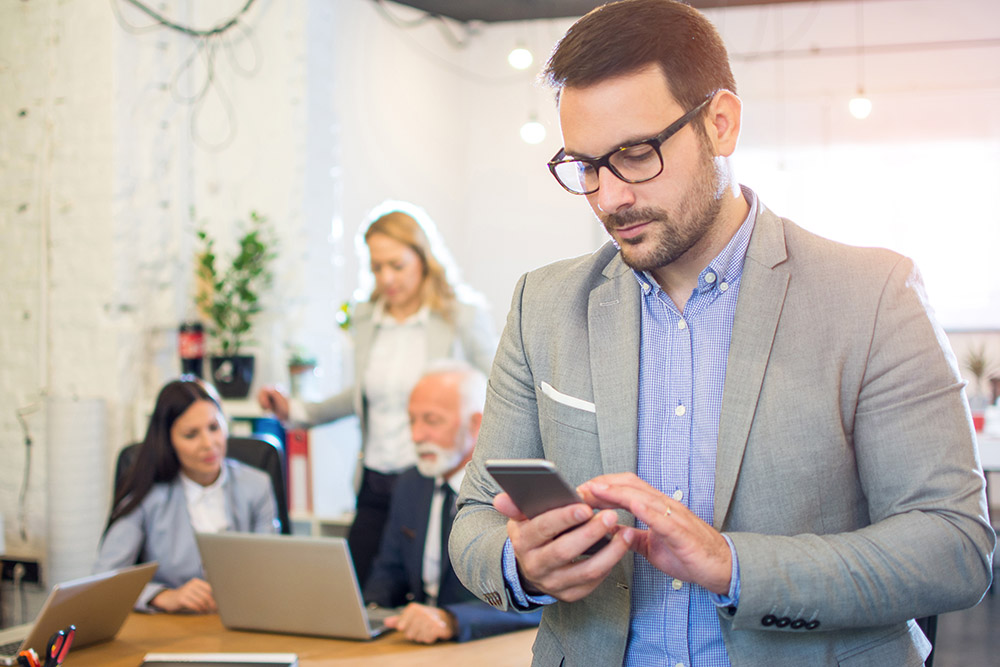 Text messaging is a staple of communication for us all. If you are an attorney that isn't texting with clients and prospects yet, you might be missing out on the preferred communication channel for many. For your prospects, SMS is an easy channel to ask quick questions and provide possible case details that can lead to a new client.
There is no doubt that text messaging can help grow your law firm with faster and efficient communication that contributes to an excellent customer experience.
Surveys show that over 74% of consumers want to text with a business. Let's look at some of the top tips and ways that texting helps lawyers.
Get More Leads and New Cases From Your Website
When you make starting a relationship easy, more of them happen. Offering prospects the ability to start a text conversation, explain their situation and share case details from your website is a huge convenience. This gives you the best chance to build trust and win the client.
Using our Leadbox, a web to text widget, your website visitors can start a text conversation about their case or ask specific questions. Marketing that you offer text messaging as a communication channel can help you stand out from your competition and acquire more leads.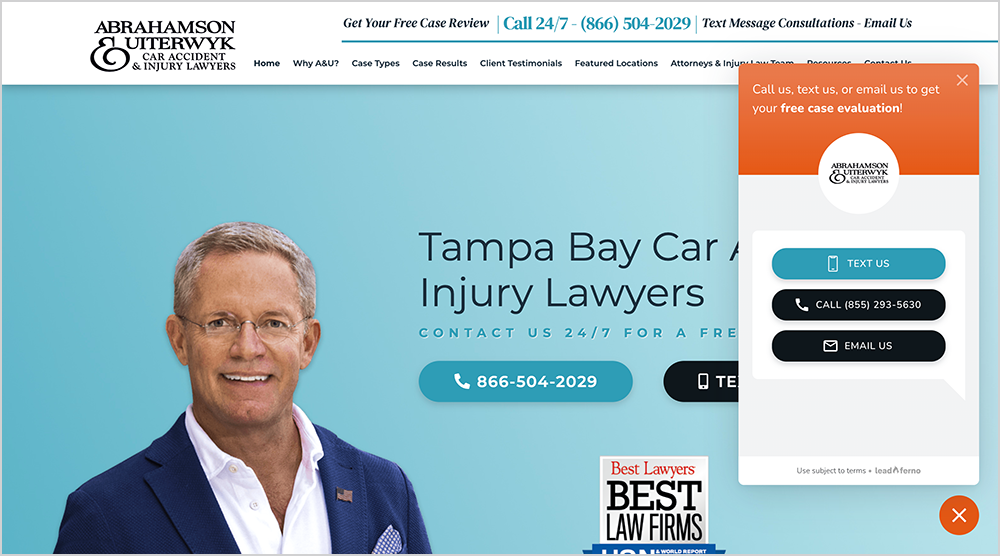 SUPPORT NEW CLIENT CASE INTAKE PROCESS
Once you get the conversation started with a prospect, it's up to you or them on where it continues. While some prospects might be best getting on a phone call, others will prefer to keep texting. Having text messaging as an option will make your prospect happier as they have a choice to keep it a SMS conversation or move to another channel like email, phone or an in-person meeting to wrap up the details.
During the intake process, text is an easy channel to engage the prospect for:
Capturing contact information
Case pre-screening
Scheduling an appointment or next step
The bottom line is by giving your prospects and clients a choice, you are meeting and exceeding their expectations. You're increasing the chance of landing a new customer.
NEW CASE INTAKE EXAMPLE
Using a business texting platform like Leadferno allows you to use automations to create valuable processes. Our agency partner Juris Digital created a new case intake automation for their client Ottinger Law using Leadferno and Zapier.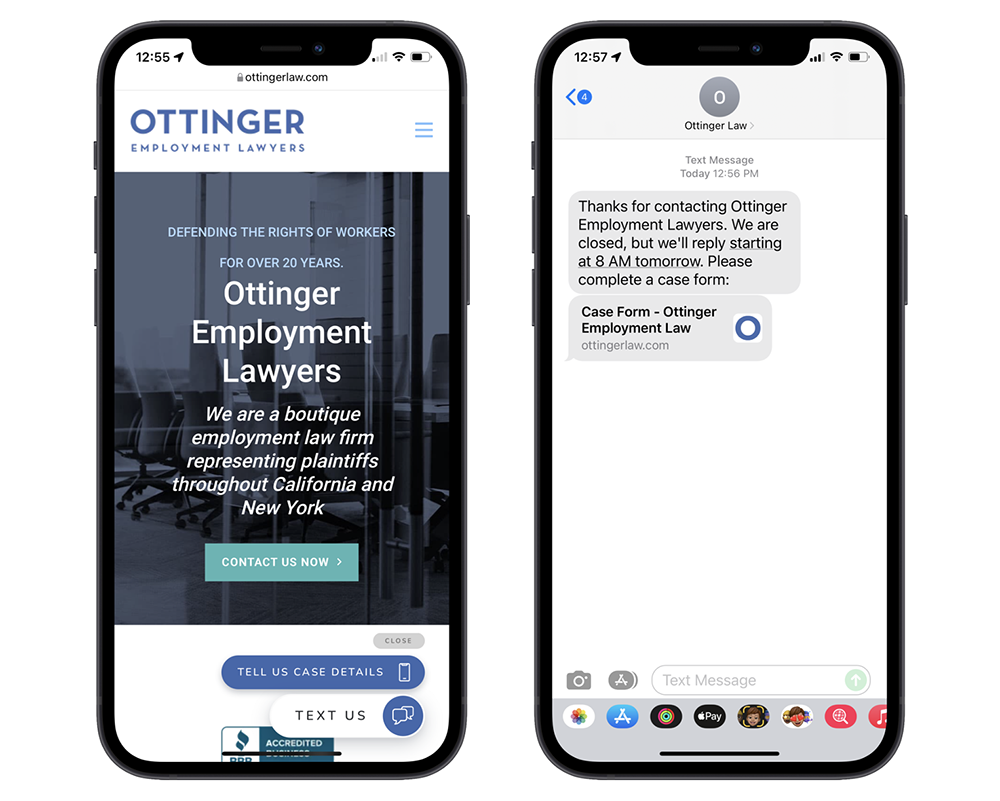 When a prospect visits Ottinger Law's website they see the prompt to text them their case information via the Leadbox. Once the prospect reaches out, Ottinger uses an auto reply from Leadferno to move the prospect into a Case Form that asks a few intake questions to hep Ottinger best evaluate the prospect.
Using Zapier, the form results (using Gravity Forms) flow back into the Leadferno text thread for the team at Ottinger to view. This automation allows them to instantly reply to a prospect and collect more information to qualify the lead … in a simple process for the prospect via mobile and text.
📲 Convert more website leads with texting! Get a demo
Schedule More Appointments & Meetings
Texting will help you capture more appointments and set more meetings because texts are almost always read. Instead of being buried in an email inbox or leaving a voicemail they might not listen to, 90% of text messages are read within 3 minutes of being received.
For new prospects, a follow-up text from their initial call, email, form or text inquiry can help you book a time to meet with them.
Your current clients benefit too. SMS allows you to communicate with ease and speed for reminders, case updates, information requests, important dates and more.
Request Reviews For Your Law Firm
Asking for online reviews to help market your legal services online via text is very powerful. With your existing clients you can use texting to follow-up and make sure the client is satisfied. If not, you have the ability to make things right before they might go and write an average or negative online review.
Your law firm might use a survey solution or reputation management software. The links to those surveys or review processes can be shared with your client from the same number you have been talking with them all along. This makes for an easy way to capture the customer's experience so you can improve or use their delight to acquire more reviews.
Using Business Text Messaging Software – Not Your Own Texting App
Leadferno gives you a business texting platform to power modern messaging communication. We've built business grade features for maximum efficiency. This allows you to transfer conversations to team members, used saved reply Shortcuts in just a tap, auto replies, set reminders and more.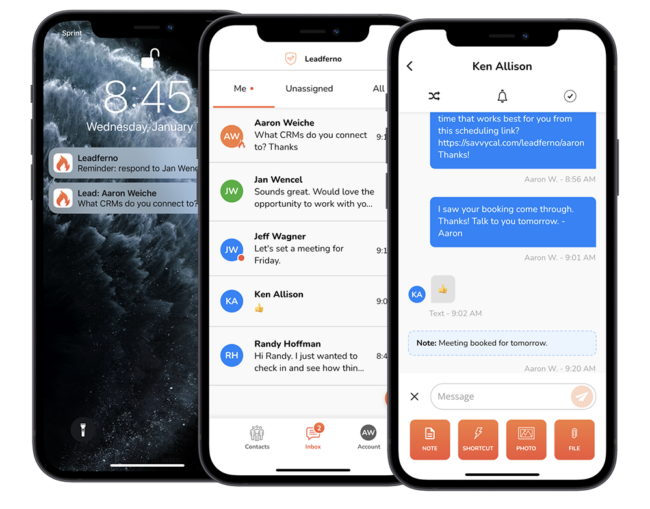 Access your messaging conversations through our web app on your desktop or mobile app on your phone for an always available experience.
SECURITY OF YOUR BUSINESS DATA
Data security matters for any type of business. The most important aspect is the security that customer conversations, sales leads and contacts stay within your agency's control and not on the employee's phone. Leadferno also archives the history of your text conversations for security and compliance reviews.
By using text messaging software like Leadferno you are keeping control and securing your customer data. In the "bring your own device" to work world we operate in now, you need to secure your customer data, internal communication records and mange your team's access.
Get Started Texting
We've shared some of the main factors for why you should be considering text messaging for your law firm. Sign-up for Leadferno's 14-day free trial to get started or request a demo to learn more on how text messaging for insurance agents and agencies can grow your book of business.
Similar posts you may be interested in:
Categories: