Call Request Helps Connect Your Business With Leads
Our latest conversion feature connects prospects with your business easier. Let customers request a call from you instead of missed calls and voicemails that waste time and money.
Mar 7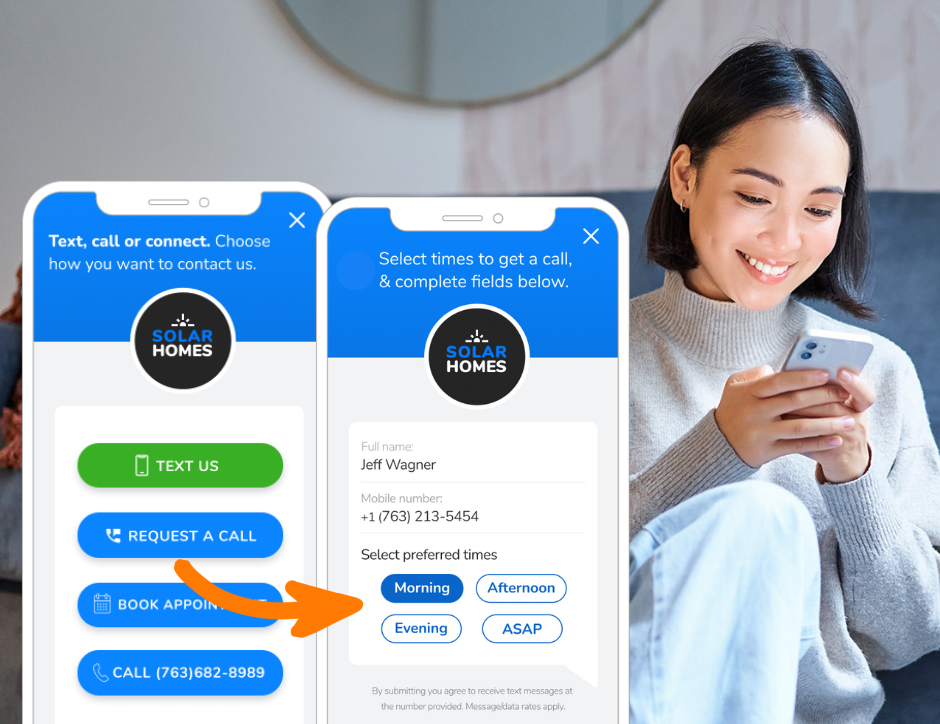 In our pursuit to make working with your business easier while landing you more leads, we've launched our latest feature Call Request. Now website visitors can request a call from you at a time they prefer.
Giving potential customers options that make connecting with you easy increases your website traffic conversion to leads. Making phone calls more manageable and scheduled for your staff increases your chance of connecting by not missing calls and leads.
Past surveys have shown that small business miss as high as 60% of their incoming calls. Another survey found that 85% of consumers whose phone call goes unanswered – won't ever call back.
Now you can reduce missed calls, voicemail tag, and frustration with phone calls. Call Request also leverages text messaging to enhance the experience boosting delightful outcomes for customers and your business.
How Call Request works
The Request A Call button displays in your Leadbox when you use the Channels Leadbox mode to provide multiple contact options including texting. It enables the prospect to enter their name, phone number, and select the segment of the day they want to be called. Those options are ASAP, morning, afternoon, and evening.
The business is able to choose the timing options offered. The consumer can then include a message with their call request to share the reason for their call or questions.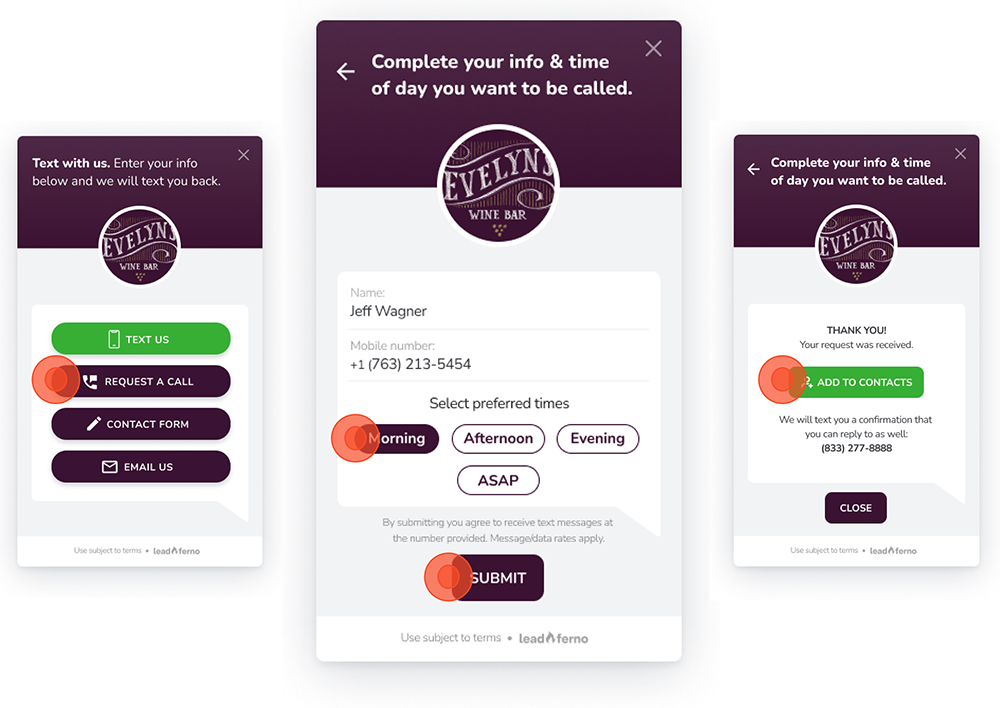 Once the request is submitted, they receive a confirmation in the Leadbox, the Add to Contacts prompt, plus an auto-reply text message confirming the business has received their request.
This text also encourages the consumer to reply with any questions or help needed via SMS which might help you connect even quicker.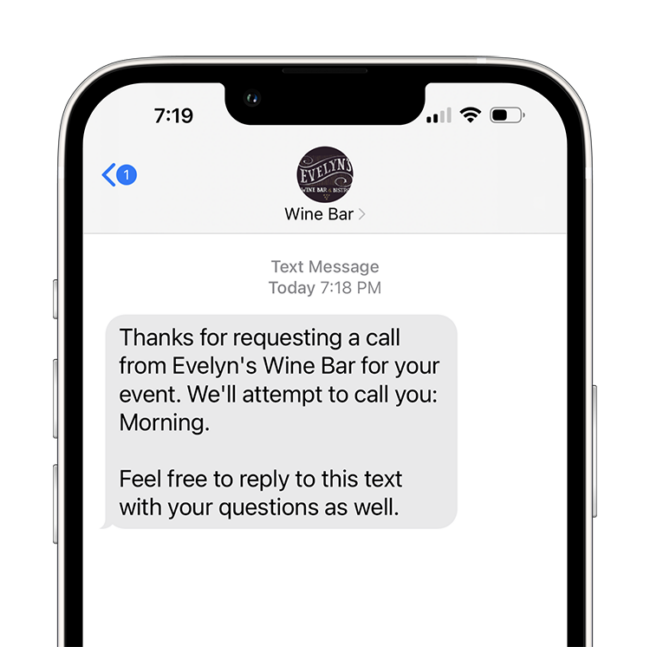 The user experience to request the call is designed to be simple with a focus on the mobile experience and immediate contact.
Calling your lead back
When a call request is submitted, you will get a notification on your phone and/or desktop depending on your settings. The request will appear as a new lead in your Inbox with all of the information the prospect submitted.
Coupled with the message is the option to call the number, perfect for call right from your phone or if your computer is connected to a dialing service. You can also set a Reminder for their requested call time at a future date.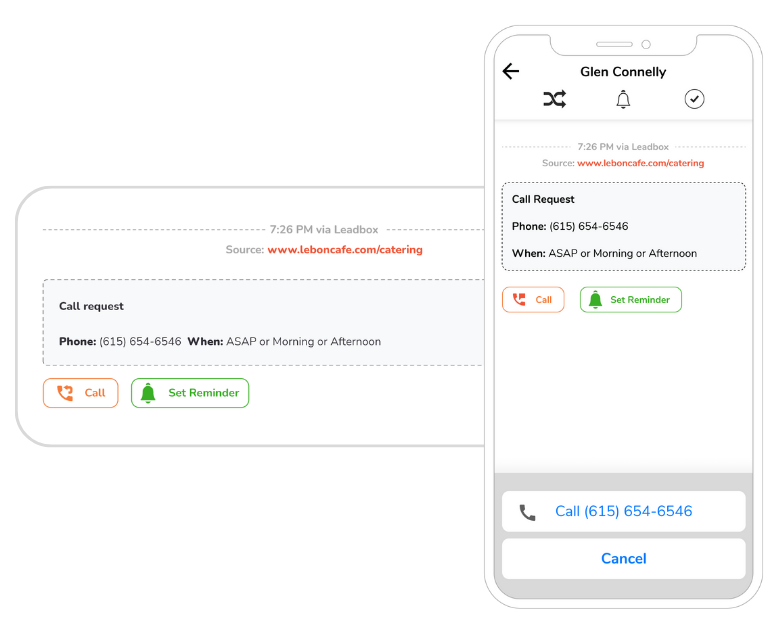 This makes your follow-up easy to manage as well as take the next step.
If the consumer chooses to start engaging over text messaging with you, you might be able to help them quicker than their call request time using your Leadferno texting features of the Inbox. This might include transferring the lead to another member of your sales or service team to text or call.
Pro Tip: If you use Reminders to alert you to when you are going to call the prospect, you can also use our Advanced Filters to only view threads with a Reminder in your Inbox.
Call Requests included in lead reporting
Another benefit of the Call Request is the ability to track it from start to finish. Just like SMS leads with Leadferno, Call Request can be tracked all the way through conversion.
Our Lead Capture report will display Request A Call in the Leadbox section for channel performance reporting.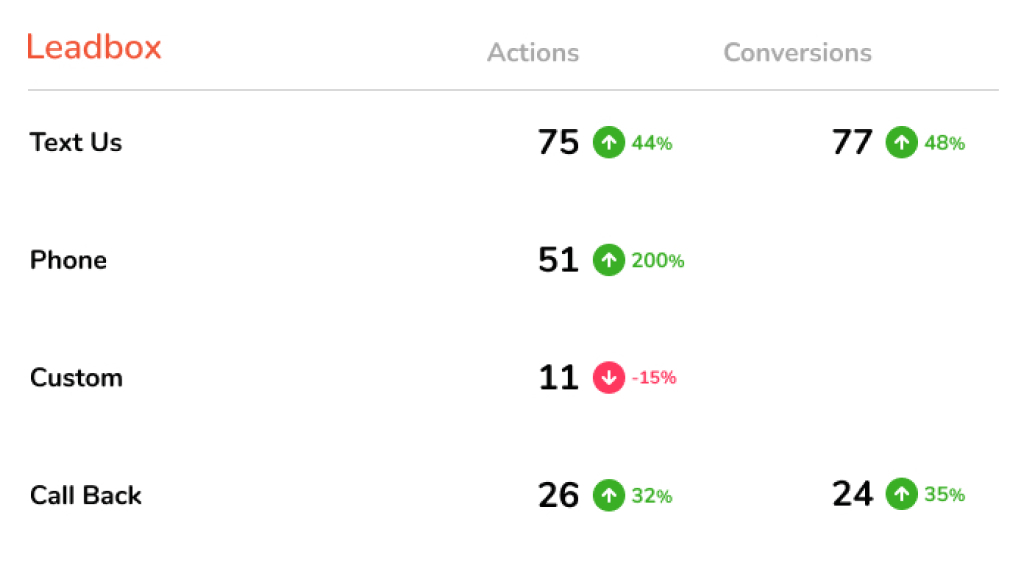 Call Request actions and conversions will also show throughout the report and in the Pages section for top converting web pages.
In addition to our reporting, you can integrate Leadferno with Google Analytics 4 and track and report all of the events the Leadbox fires to GA4.
Leverage the ability to track, analyze and improve your conversions.
Adding The Request A Call CTA to your website
Let's outline how to include Call Request in your Leadbox and conversion options on your website.
1- Use Channels Mode
Once on the Leadbox page in the web app, you will need your Leadbox mode to be set on Channels, not Text only, to enable additional CTA buttons.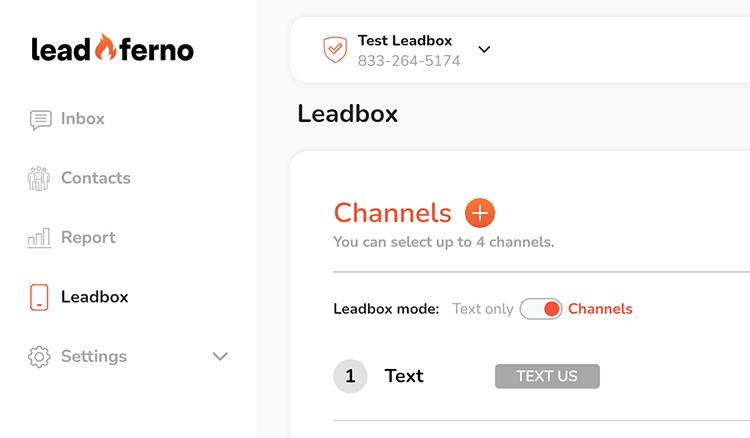 2- Add Call Request Channel
Leadferno automatically adds texting as the first channel option to appear in the Leadbox. To add your next channel click on the orange +. In the Channel type dropdown select Request A Call.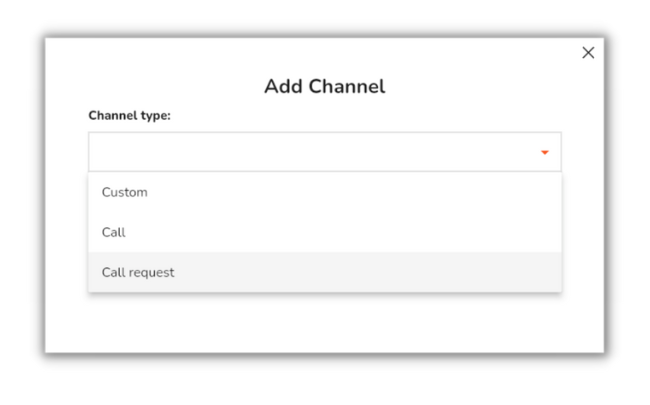 3- Set Available Times
Click on the Availability Options link to choose the times you want to offer consumers for their call-back request. You can select just one, multiple, or all 4 of the options.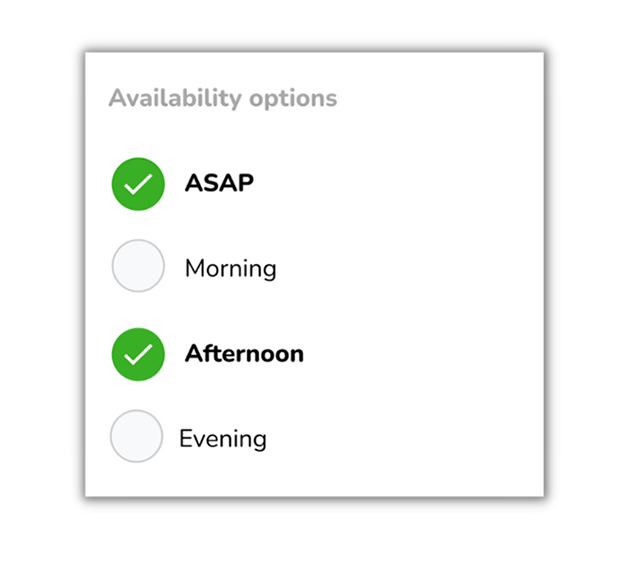 4- Confirm or edit the auto-reply
The auto-reply text message by default greets your customer, confirms their call timeframe, and encourages them to text you any questions. Our default auto-reply might be perfect for your business or it can be edited to meet your needs. Auto-replies carry a max of 255 characters and can use variables to pull in the information of your business name, profile name, and call request times selected.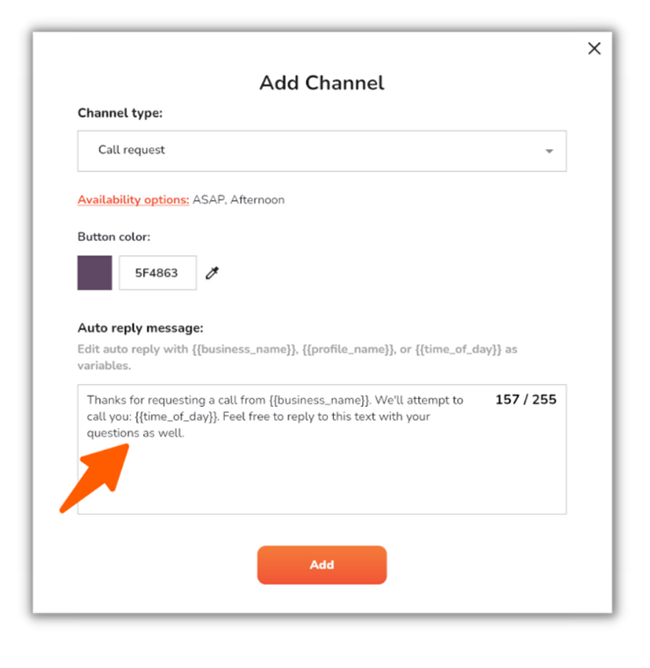 5- Test it out
It's always a great idea to experience what your prospect will engage with. Once you launch the Call Request feature you can go to your website and complete the process with your number as a test. Make any adjustments as needed.
Gain more leads with Call Request
Request A Call builds on the already powerful feature set Leadferno offers with our Leadbox, a web-to-text widget. You can offer 2-way texting right from your website and present to calls-to-action (CTAs) for booking appointments, estimate forms, directions, newsletter sign-ups, and more. You can customize the best CTAs for your business and prospects.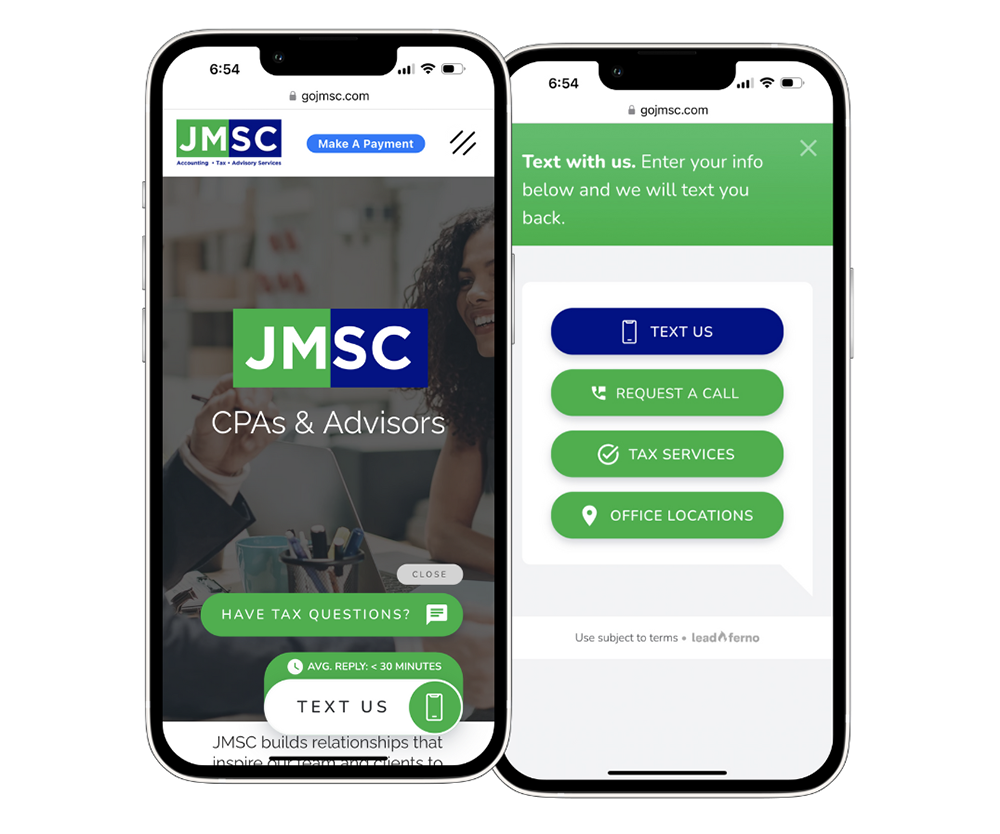 Not only are the CTAs the most flexible in the market, but our features like Highlights and available Leadbox customizations allow you to draw attention to your contact options on any device.
Our excitement over this new feature isn't just our opinion either. Yelp.com released a Request a Call feature 9 months ago and reported they saw significant use among consumers and business owners, with a 10% increase in total projects started on Yelp's website.
Let your competitors miss calls and waste time trading voicemails while you are connecting with your prospects and customers at speed to win right now.
Similar posts you may be interested in:
Categories: